I'm Featured In A Malaysia Travelling Book
If only u could see me now, u would be asking me

'What are u smiling about?'

:)

About 6 months ago, a writer(Peter Kua) sent me an e-mail, asking for permission to take writings from my blog (post on my trip to Pulau Kapas, Terengganu) and compile it into a travelling book. I agreed.

6 months later today, he replied. The book is compiled and sales has started in stores, mainly in US. It is also available at Amazon Marketplace with free-shipping within US. I'M TOTALLY FLATTERED!

As promised, i am given a free softcopy of it. And all of you, my dear loyal readers, will have the privilege to download and read for free! Yeay! A privilege solely for bloggers.



MALAYSIAN ISLANDS: THE GOOD, THE BAD, & THE FINEST


(527KB: Right click/Save Target As)

The best part about this book is that it tells the truth, and nothing but the truth. Unlike island brochures which praises everything sky high (exaggerate), this book consist of articles written by adventourers themselves, telling the story of their trips through their own eyes.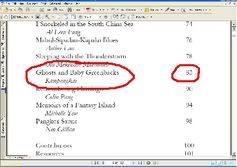 Table of Content.



Check out pg 104 - Glossary. It even explains what is

CCB & cibaimahaihamkachan

! hahaha! the editor kept the articles as authentic as possible, yet promosing quality reading. U gotta read it!

Furthermore, i contributed

THE MOST PAGES

in this 109 pages book! I'm not kidding! i took up 7 pages of space among 30 contributors! That makes it a must for u to read it to show support ok!?

Thank You Peter Kua. It's such an honor for my articles to be featured in your island travelling book. U show true patriotism to the rest of the world. Malaysia Boleh!

For those of u who wanna give presents to your foreigner friends, this makes a good one. Tell the world about the beauty of our islands in Malaysia, spread the love around the world through words! You can get the hard copy from Lulu.com (http://www.lulu.com/content/234466)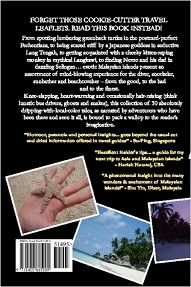 Front & Back Cover.



Read the REVIEWS of the book, it's flattering!
ie:
-Enticing
-Better than a thousand pictures
-We deserve the truth
-I wanna visit these islands!
-Stereotype-free travel guide

These are the original post of mine (with pics) that the the editor featured in the book.

1. Green-back Baby Penyu

2. 141 mosquitoes in 30 mins (*with pics u've never seen b4)
3. Pulau Kapas - Part II
4. Pulau Kapas - Part I