Pulau Kapas - Part II
Please read through Part-I
b4 going on to Part II.

after walking about 5km, our legs were just too tired to go on, it felt like taufu. In addition to the heavy bag that was straining my shoulder, i just felt like collapsing. Now i know how fit and strong those mat-salleh are, backpacking all around malaysia with those huge deuter camping bag(s) that could make u fall to your back once on your back.

Not only were we tired, our urine bag were kinda overflowing, and every step we took was kinda like inviting it to leak haha! Throughout the walking journey, we passed by 2 petrol kiosks, ESSO & SHELL, but both weren't open at 0705 hrs!!! if compared back to KL, the kiosk would be open as early as 5am or even 24 hours rite? so since it wasn't open, same goes to their toilet. Wishing to see a coffee shop so that we could release the stress, but none came to rescue. The whole town was so quiet, just a few cars, 95% of the shops were still close, well i told myself that i'm in KT, dun expect so much.

In the end, we found the town-bus station, thank God. Next to the station was this 4 lil stalls selling breakfast, I bought a copy of NST for RM1.20 and ordered a cup of Kopi.(Ram had Milo) THE STAR papers doesn't go on sale until 10am because of the journey. After having 2 sips of my hot drink, the Pakcik said...

Pakcik : Pegi tandas skejap ya!
Me : *Nod my head and smile


Me and Ram : *dumb-founded, looking at each other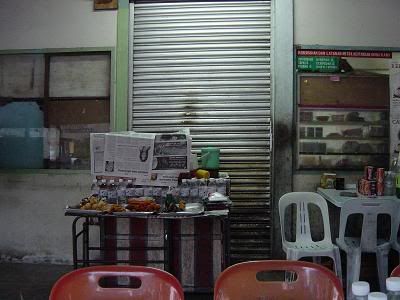 Door pulled down with everything unattended

The Pakcik just pulled down the sliding door and walked off!!! leaving me and ram at his stall, with everything unattended!!! KT ppl trust strangers so much! I could have just stuff some food in my mouth and walked off! But this is the 100th time i'm telling u, kampungkai is a very kind and good guy, he helped the Pakcik look after his stall, and made sure no1 took the opportunity to rob his stall. hahaha!

5 mins later, he got back, re-opened his stall, trusted me.
Me : Boss, kira! (typical KL style, i wonder whether they say it like that in KT)
Pakcik : RM1.40
Me : Dua berapa? *pointing to Ram's drink as well
Pakcik : RM1.40
Me : Dua, RM1.40?

wow... so cheap! 70 cents per drink! couldn't believe it! and it tasted good, gave me a push-start for my day. i could buy 15 cups of kopi with the same amount of money paid to starbucks.

Back to walking. Headed back to the roundabout which was 3-4km away to meet up with friends. While walking, u can see eyes starring at u everywhere. Maybe it's because the backpack on my shoulder, that gives the feeling of mat-salleh roaming around town.

Finally, the other 5 arrived and picked us up to Marang Jetty. Had a quick snap of photo b4 getting on the speed boat. Every1 was equipped with their cool gadget - the sunglasses! hahahah.....



The blind Society.



Marang Jetty



Datok, Me, Lah



Water splashed up from 2 engines

The speed boat was equipped with 2 MERCURY engines, not that sure how much horsepower, but the speed was quite ok. Reminds me of my trip to Redang 2 years back, the speed boat was fitted with 4 250hp MERCURY engines, that contributes to 1000hp of thrust! fuh! it was raelly a thrilling ride man! no kidding! it was as though the boat was flying without wings.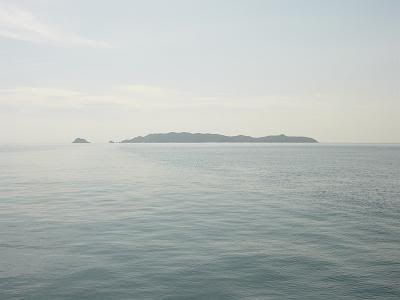 Kapas is kinda near to mainland. Only 15mins speed boat ride. It's visible from mainland.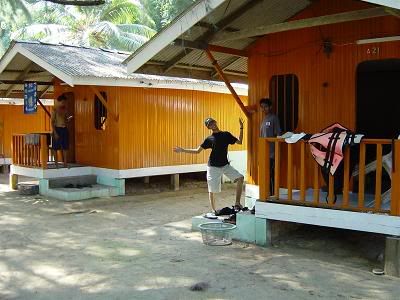 Upon checking in the rooms (A21 & A22), all tried to be Macho! took of shirts, wore on sunglasses, walking around shifitng stuff, too bad la... no chics around also!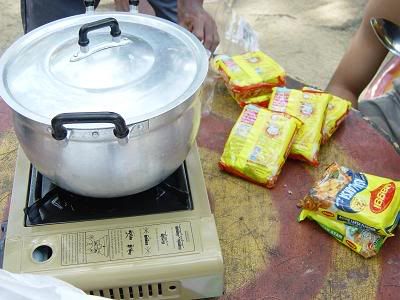 Time to have lunch. Since it's such a budget trip, we had maggie mee. Look at the pic, we had 5 pacs of curry flavour, 1 pac of asam laksa flavour, and 1 pack of ayam flavour. So, we threw in all the instant mee into the boiling water and...... poured all 7 pacs of different flavouring into it! MY goodness! it was Naim's suggestion! it came out so cacat with curry asam laksa ayam flavour, of course with majority of curry. And it waste so salty as though I was drinking salt water from the sea!! till now, i can remember the taste. I was cursing all around, hoping that i dun lose my hair by the end of the 3d2n trip.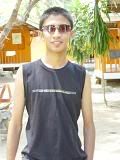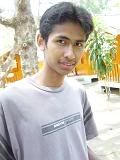 Me, Ram, Mang, Naim, Datok, Asriq, Lah



By evening, it started to drizzle and rain, sighhhh it spoilt our plan to bbq on the beach. Instead, we had to bbq under some roof which was beside our room. None the less, the chicken tasted really good and we had a real good time.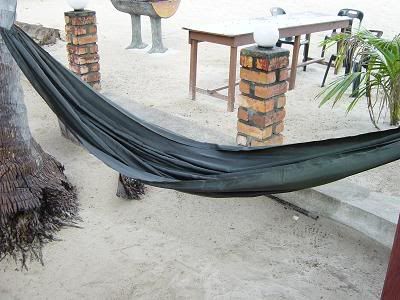 The day ended and i went to sleep in my army hammock by the beach.



The 1st thing i saw when i opened my eyes the next morning.



This pic is for Siah, my hp was ringing when snapping this pic. U called. I just woke up. Yawnnnn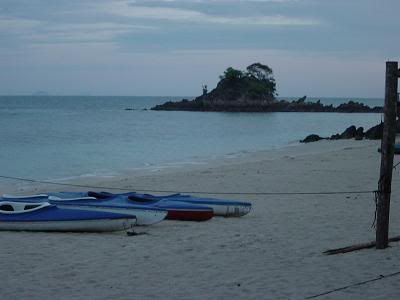 0700 hrs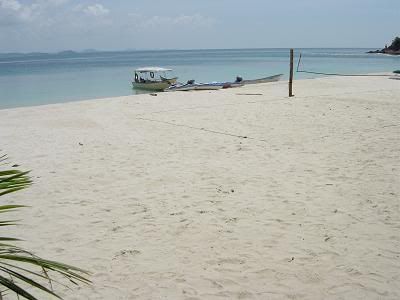 Beach with Beach Ball Court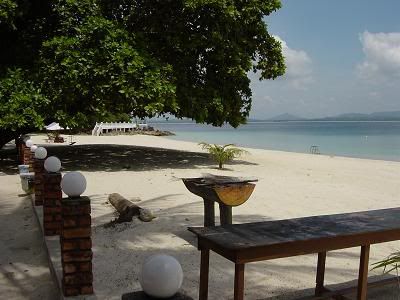 Beach bbq pit



The Bouncer


To Be Continued...