Nyonya Dumplings
Living in a family where food is one of the highest priority topic is a happy family. Why? because u get to taste and eat all sorts of delicious food! Just like the King! And at this time of the year, it's Dumplings season, so how could my

Malaccan-born Mum

miss out this occassion?!

Malacca

, what comes to your mind when u see this word? is it the chicken rice ball? the durian cendol? or the portugese food? all of them taste good ya? But, have u ever tried the Nyonya

Dumplings

? or have u ever seen

Nyonya

Dumplings

? Yes? No? Haha..nvm, watever your answer is, my mum is currently making it downstairs, and i'm here to tell u more about it! (oh, my mum is not a Nyonya, she learned how to make it from grandma who learned from a Nyonya... long story)

Preperation for Dumpling day started a week back. Mum was running up and down to town and sundry shops, getting all the necessary ingredients. Cooking and frying was done from morning till evening for the past 2 days, soaking of the glutinous rice was done last night, and many many more pre-making steps. This year's production will see an

increase of 100

dumplings, because mum's friend placed an order. This is my mum's 1st attempt to sell her secret product, so she's kinda pressured to make the dumplings look nice and perfect. (till now, mum dunno how much to sell for 1 yet? any suggestion?)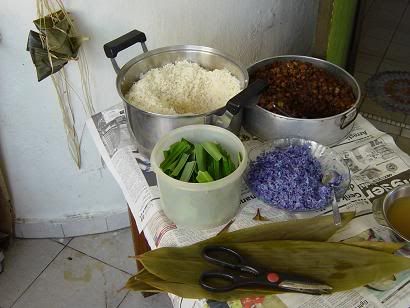 Clockwise from left : Glutinous Rice, Pork Meat, Blue Glutinous Rice, Pandan Leaf

As u can see from the pic above, these are the 4 major ingredients that make up the Nyonya Dumpling. Different from the normal "salty-dumplings"; the nyonya dumplings taste rather sweet with a slight saltiness.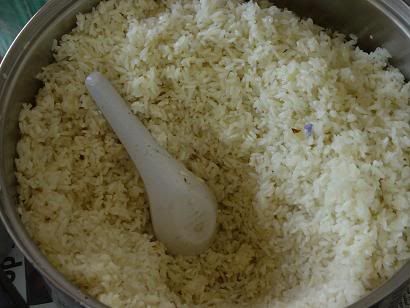 This is the

glutinous rice

, which has to be soaked 1 whole night prior to wrapping. It is also the outer layer for all dumplings. Oh i just remembered that it has to be cooked in the 'kuali', mum said "fry awhile 1st, then got smell". Wow.. didn't know it makes difference!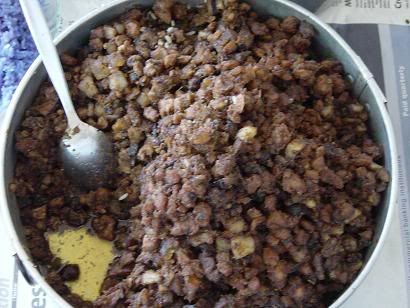 Main ingredient! the 'isi'

=

it's pork

+

cannot tell u

+

cannot tell u

+

actually i dunno

hahahah! see the puddle of oil there? the yellow patch at the bottom left. Dun complain, it taste good. Well, this isi was also prepared day b4, this morning warmed up again.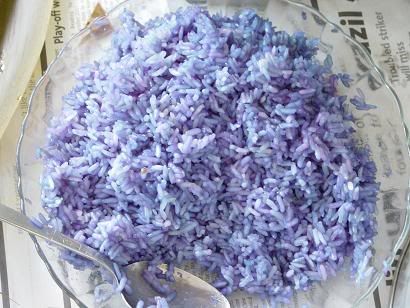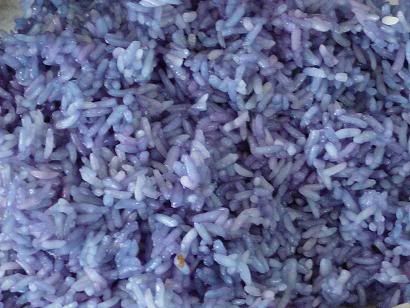 hahaha! u know what is this?

purpleish blue maggots

? (oh pls dun vomit, i dun mean to) Dun worry, it's also glutinous rice, but only in blue. The blue coloring is 100% natural, no artificial coloring, guaranteed. The blue color is obtained from a flower of a creeper in my garden. It only blooms in the morning and remains shy for the rest of the day. Pluck it and mix with water, and u have yourself a natural

blue

dye. (oh btw, no pesticides nor herbicides in my garden)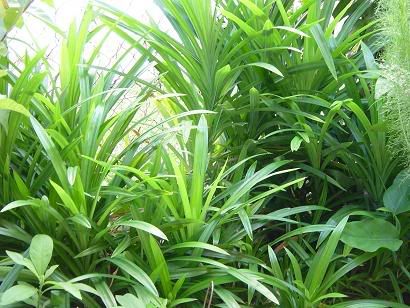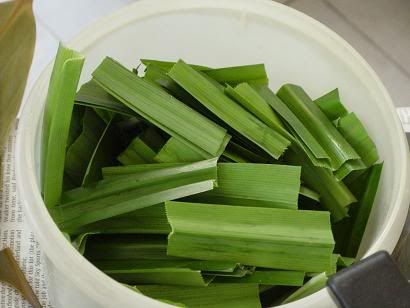 Here, everyone knows this. The

Pandan leafs

. Why Pandan? because it has a very nice smell, it gives the Dumplings extra smell. My mum use to put it in the car also, natural perfume! But i wouldn't wanna put on Pandan perfume to attend a wedding dinner or Prom hahaha! i dun wanna smell like a plant! Same to the blue flower, the Pandan is from my garden too, natural and toxic free! Eh guys, when i was young i use to catch some

'fighting spiders'

or better known as "pao fui" ya? got gold head and silver head! long time didn't catch them! wonder which generation alraedy.




Now how can u make a dumpling without this? These are

bamboo leafs

that Pandas eat back in China, exactly the same type we are using here. Imported (chewahhh sounds gaya, 'imported') Yesterday i was actually suppose to help mum wash and wipe the leafs, but i had my evening nap and forgotten all about it, felt bad. After washing, the leafs have to be soaked in water to remain soft for easier wrapping. An hour or two b4 wrapping, drip the leafs dry but remain moist.

OK, introduction to ingredients done. Now it's wrapping time!



1. Take 1 or 2 leafs (depending on size) and fold it into a cone shape. Scoop some blue maggots, ops sorry, rice into the cone. Cucuk a 2 inch long pandan leaf to the sides. Then, add some white rice and make a hollow in the middle, like a small volcano.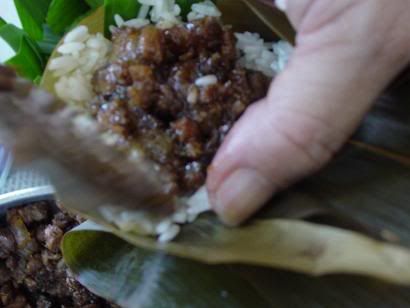 2. Add in the meat/isi.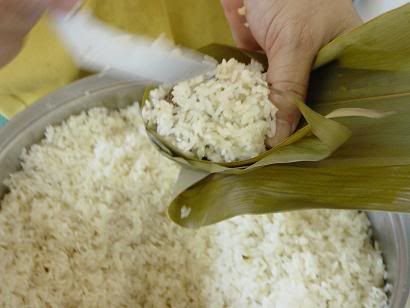 3. And another layer of white rice.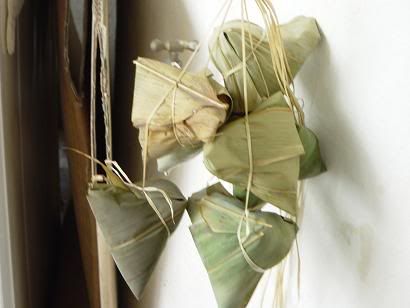 4. With special techniques that i have yet to master, wrap it up!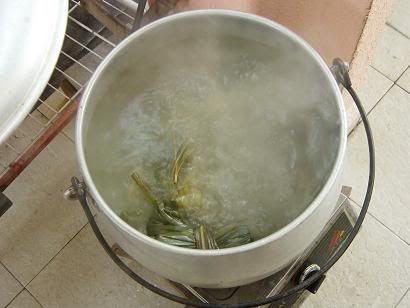 5. Dump in the big pot and boil for 1 hour.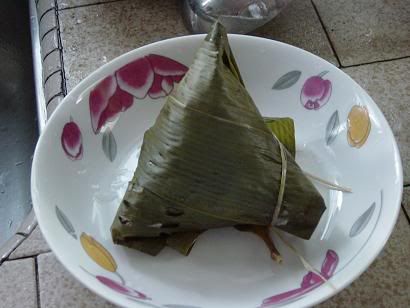 An hour later, taddaaaaaaa!!!!! my Nyonya Dumpling is ready!! BIG leh?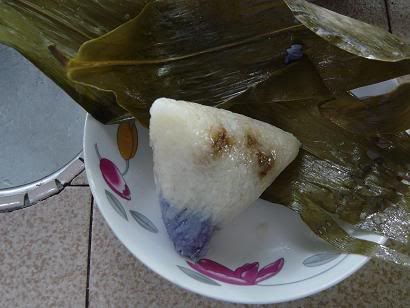 Open up, tadaaaaaa!!!! the real Nyonya Dumpling with 1 blue corner!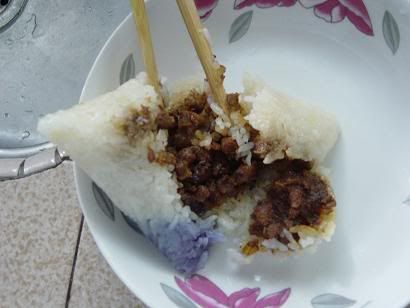 Cut into two, tadaaaaaaaaa!!!!! mmmm... saliva dripping already, it taste so good! mmmmmmm can i have some more?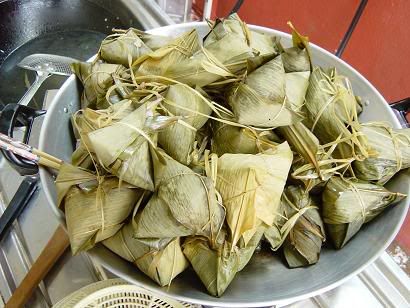 There you go, Nyonya Dumplings. Now u know how it looks like? Too bad, i can't give u all through the net. Come my house la, i reserve some for u! (1st come 1st served basis)

After finish making the Nyonya Dumplings, mum said they are gonna make the normal "salty dumpling". Here are the preperations.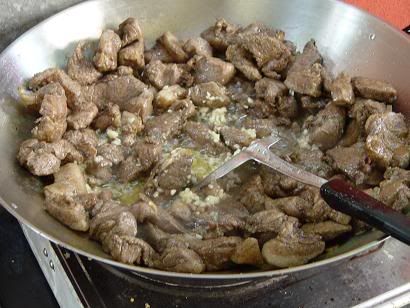 Fried Pork. Check out the amount of oil... scary!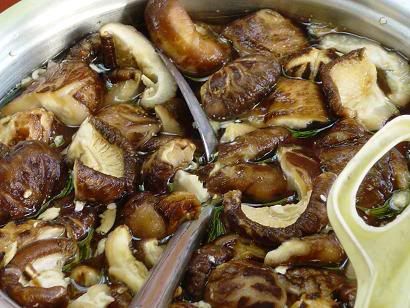 Mushroom

Hey, i forgotten about the 2 heroeins / super duper malaccan chefs! Ladies and gentleman, please give them a big round of applause. Presentinggggggg.... MY MUM AND MY AUNTY!!!! wuuuhoooo!! *clap clap clap clap clap clap clap..... feeeeewwwiiiittttt(whistling) *Mum is the 1 in yellow shirt.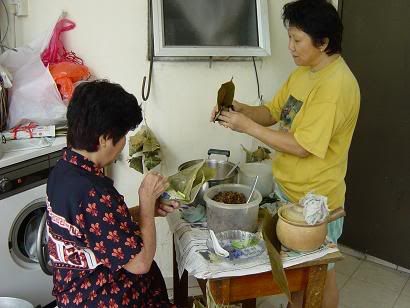 hahaha, i shall leave u all here salivating, while i go enjoy another dumpling! yummyyyyyy!