Flooded With Salt Water
U can smell the aroma or sate burning in Kajang Town, u can also smell the sea in my house near Kajang Town. Some 30 hours after i got home from my trip to Pulau Pemanggil, Pulau Dayang, and Pulau Aur, which was surrounded by the South China Sea, my living room was surrounded/flooded with Aquarium Sea. My aquarium cracked. Now, my house smells like some fishing village in Mersing and I'm having a hard time cleaning up the mess.
I was surfing the net when i heard water dripping in the living room. Thinking that the water pump's hose must have disengaged, i took my own sweet time continuing surfing the net. To my shock, water was flowing out from the bottom of the aquarium! It was no ordinary water, but salt water! My salt water aquarium was leaking water in the living room! HELP!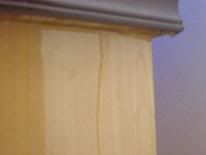 Heart-beat rose immediately. I turned off the main switch, which turns off all (3) the pumps and (4) lights, yet water was still flowing. Ran to the washroom, grab hold of a few buckets and started scooping water out from the tank. 1st priority - save the 'Finding Nemo' family! (my aquarium has the complete family of finding nemo movie - Dory, Nemo & daddy......)
While scooping out the water, i had to prepare the back-up aquarium. For hygienic reasons, the back-up aquariums had to be wash before use. The shoes right beside the aquarium was soaking with salt water, had to transfer them to safe ground too. urghhh so much work going on simultaneously, but still wondering how on earth it cracked.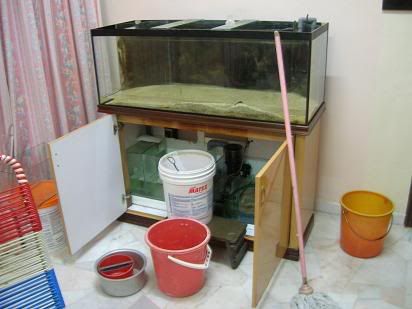 Getting the salt water fish transferred wasn't an easy job. They swim way faster than those fresh water fish. It caused them lots of energy and stress swimming away from the net that eventually they went exhausted and willingly gave in to me. From such a big tank to swim in, now the family of 9 is downsized to a 2x1 foot tank.
Fish safely transferred, sigh of relief, but the worst has just started. 1/4 of the living room was flooded with salt water. I looked at the floor for a full 10 seconds, not knowing where to start from. Since it was 1am midnight when the tank started leaking, it made things worse.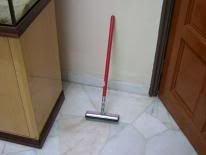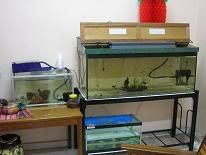 Thanx to the car windscreen cleaner, it made things slightly easier (mops come to no use at all). Foot by foot, i had to drain the water out from the living room. Then, turn on all the fans in the living room to blow dry the marble floor. And when the floor is dry, it is sticky, because of the salt. So, i have to mop the floor, not once, not twice, but 10 times! no kidding! till now of which i've wiped the floor 13 times, including twice with detergent, there's still a slight stickiness which makes u tip-toe while walking.
Since the supporting structure of the tank is made from wood, i have to bring it out to the sun and dry it. And that definitely needs the minimum help of 2 guys, which my family is lack of now. (parents goes to work) The glass tank is really heavy! Any volunteers? haha...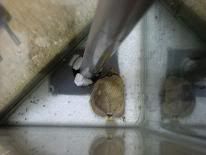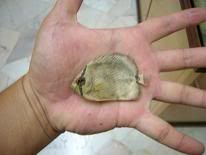 While cleaning up the tank, I found a dried fish at the dry part of the tank Haha! i have no idea when it happened, but it seems it happened quite a long time ago as it was really dry and the eyes was hollow! It commited suicide sighhh... am i not a good owner?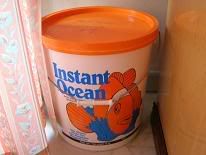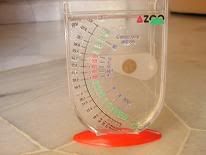 For those of u wondering how to prepare the salt water environment for the fish to live in. Let me explain, it's very simple. Of course, u need salt to get salt water. So buy the salt from some aquarium shop and just mix with tap water. The difference of cooking salt and aquarium salt? i really dunno. But i definitely won't risk using cooking salt as my aquarium's source of salt water, because it's not worth trying. The nemo family is not cheap. Anyway, after mixing salt + tap water, use this meter and fill it with salt water. Check the specific gravity of the water and make sure it's in between the red color range. As simple as that.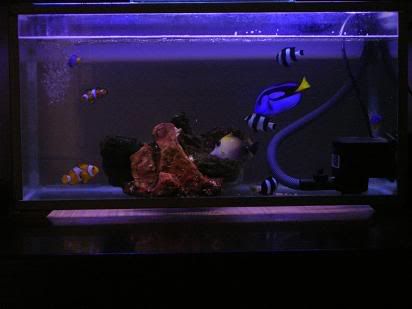 They are doing good now, but pretty obvious that the tank is too small for 9 fish to live in, it feels like being in jail. Till then, do wait for my next post on my trip during last weekend to the islands in 2 days' time.