Kampachi
Happy Chinese Valentine's Day! Any guys out there bringing bamboo sticks with an aquarium fishing net tied at the end to the river? Time for bachelors like me to do so. Tonight is the night where bachelorettes throw a mandarin-orange, along with hp number (haha) into the river, and bachelors will be waiting downstream, hoping to get an orange from the river and meet 'The Destined One'. Hopefully, i dun fish up an orange from a GAY! *run!

Kampungkai would be spending his Valentine's Night in a Japanese Restaurant this Tuesday, with all the lovey-dovey couples together, enjoying the love atmosphere, sipping warm green tea from the porcelain cup, and enjoying every bit of the mouth-watering appetizer, main course, and dessert. HOWEVER, Kampungkai will not have a valentine to sit with, to eat with, to laugh with, nor to kiss with! Because... Kam-pungkai is working in

Kam-pachi

!



Kampachi

is a Japanese Restaurant located in Equatorial Hotel (Bangi). It's about 9km away from Kajang town. Inside, u get the feel of a nice japanese restaurant. Upstairs, there are 4 private rooms (i think it's called Tatami?), which can sit about 10 people each, pretty big i should say. And u have to take off your shoes before entering the room, part of the custom perhaps?

Why am i working? Well, thinking that since i'm so free, why not get some stuff to do. Better than sitting in front of the PC everyday and night, checking out the same old URLs daily rite? I have classes from Tuesday-Friday, so i decided to work for the weekends only for the buffet session. Besides, it's a good chance for me to put my japanese speaking to full use!

Irasshaimase!

Arigato Gozaimasu!

Chotto Matte!

and....

B

AKA!
:P

Uh... Tuesday night, serving all the lovey-dovey couples = sux. Kampungkai, why can't u be the one served instead of the one serving? Special night with extra work, but no extra salary, and they are begging me to come on Tuesday night to work. Hm...What if i ffk them? hahaha... there other waiter and waitresses would be doomed!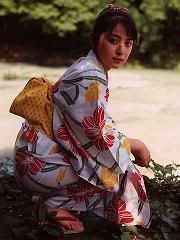 Kimono Girls



So do i get to join the crowd and eat buffet? Yes of course! but behind the curtains. At the end of the buffet session, we will be in the kitchen, salvaging what is left. There will be sushi(s), tempura(s)... everything! wahahaha! That's the best part of being a waiter! Ooo, not to forget, there's this petite and pretty kakak working as a waitress in Kampachi too, she soothes my eyes and brightens up my day! LoL! The fact that her uniform is a Kimono makes her really stunning, how i wish she was beside me........smiling.......serving............... *dreaming

*Smack! Anyway, they are only paying me RM4/hr. That's not that high. But then the real reason for me to work there is not because of the pay, but more of gaining experience and meeting different people. Through being a waiter, i get to better understand that there're alot of weird and different people out there. And because of these weird and different people, i'll learn how to cope and satisfy their needs (no sex needs ok!).

Now, i really understand stewardesses' job is not that easy. It's not only about serving food and drinks, but also to approach people in a decent way, how u present yourself, and how to make your guest happy and satisfied. And, at the end of the flight, or in my case the buffet session, a waiter/stewardess has walked a few miles! No kidding! Walking up and down between the kitchen and dining room, refilling the empty ocha pot (green tea pot), cleaning up the tables.... and the list goes on. I think i've walked 2.5km in Kampachi itself today haha! nah, just kidding!

For those of u who are interested to try out this japanese restaurant -

Kampachi

, feel free to come for the weekend buffet, i'll be there! Make sure u tell me the

secret password

when u see me, then i'll know that u r a blogger haha! (highlight the password at the bottom of the page)

Saturday night's buffet: RM56++ 6:30pm-10:00pm
Sunday aftn's buffet: RM50++ 12:00pm-2:30pm
Valentine night's buffet: RM88++
Check out more about

Kampachi

, Equatorial Hotel here.

So, see u guys in

Kampachi

! Don't forget to give me tips ya!


Secret Password:

Kampungkai (LoL, easy huh? :P)