Diving
My bro is back, from Vietnam. He has grown thin! How come! Vietnam not feeding him well? It's only been 4 months since he left.

But in less than 24 hours after reaching Malaysia, he's now on a flight to Cebu, Phillipines. Come back = never come back. Duh! He made me sleep deprieve for sending him to KLIA at 6 a.m. Being not able to get back to sleep, my panda eyes are looking at the monitor, wondering what to write because my brain is not really functioning.

Purpose of going Cebu: DIVING! He left me at home, i wanna go! Since i graduated from SCUBA till today, which was around June of 2005, i have not went for any dives. I can't really remember how to dive to be frank, all the equipment names and installation stuff are forgotten! I think i need to go for a dive soon to brush up my skills. Any divers around? Come, let's go diving...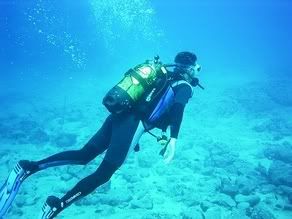 For u who have not learn diving, let me tell u, it's fun! It's a total different world down there (of course), and it's really beautiful. Lots of Nemo, lots of Dory, lots of soft soft anemonies, and no great white shark in Malaysian waters. So it's pretty safe diving in Malaysia, in fact, the Malaysian sharks are very shy (they swim away upon seeing u).

What do they teach during the course? Everything u need to know in order to dive. That includes safety, all the equipments' name, what's the use of each component, how to communicate under water (hand signal), what to do during emergency.... many many things. Everything done during the course of 4d3n, which includes theory and exams. Oh, the most important question? How much? Currently, it's RM800. Not including lodging and food. Might increase if diesel price increases? Oh ya, 2nd most important question -

i can't swim, how to dive!?

It's not true... i have 2 diver friends who can't swim. u dun need to know how to swim, just kick your legs and the flippers will do the job, easy. Futhermore, u won't drown, the tank on your back is for breathing, dun worry.

U can do it in many places around Malaysia like: Perhentian(i did it here), Redang, Lang Tengah, Langkawi, Tioman, K.Kinabalu.... too many to mention. So, once u have graduated, tell me! Then we shall plan a budget trip and go diving alright?

Again, my house is updated with things throughout the world, mainly woodcraft. Here are the things brought home from Saigon/Ho Chi Minh City and Hanoi yesterday.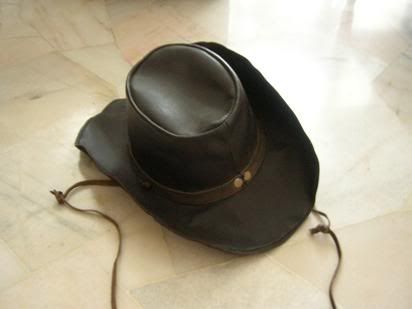 - A comboy hat?! from vietnam?
- Shouldn't the hat be cone type with a sharp tip, like the ones used in Padi field?
- Dunno when i have the chance to wear it. Maybe during my ride on my 'Old Metal Horse'??? hahaha (direct translation from Mandarin) It's still a horse! and horse riders wear cowboy hat!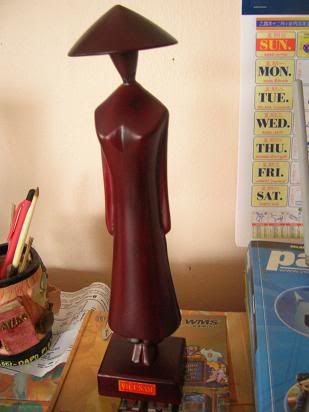 - Very vietnam look.
- That's the hat i was talking about.
- A small log carved into this, very nice furnishing.
- They should used this to substitute the Grammy Awards!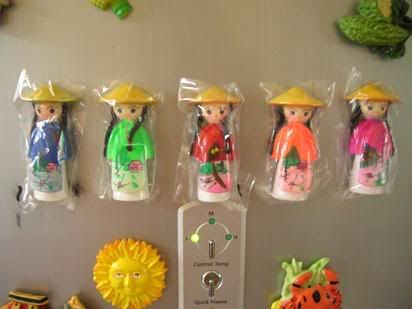 - Very cute!
- Knowing that my mum loves fridge magnets, here goes 5 vietnamese girls.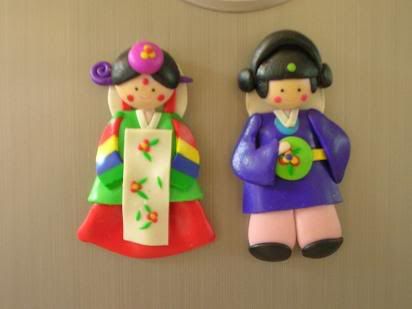 - Korean girls
- Nah, not from Vietname.
- Just showing some sort of similar product on my fridge
- It's flexible/able to bend, compared to the rigid Vietnamese girls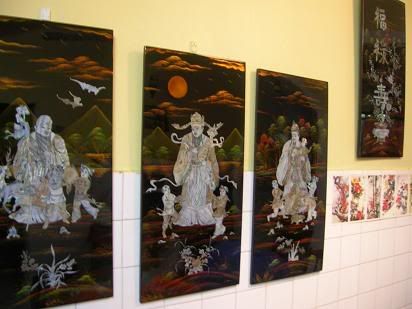 - Made from sea shells.
- Very smooth finishing, with seashells embedded inside the wood. Glossy.
- Would look perfect after shining some spot lights on it.
- Brother cannot read chinese words and he went around the shop asking what it means
- Shop owner says this FUK LOK SOU brings good luck, and so he bought it hahahha!
- Very good CNY gift, shall be presenting it in the living room very soon.