The Devils & The Reds
Attention:
1. Before i start this post, I've to say, I'm a Manchester United fan.
2. Malaysia is a free country, we dun fist fight just for a football game ya?
3. hahhahahahah! chill dudes, dun get angry and start debating bout MU & Liverpool!


Yawn, i'm very sleepy! reached home at 3am, slept at 4am, woke up at 9am, brought the car for service (suspected water might have gone into the engine) on a very very sunny morning, and 2 hours later, now, the sun is no where to be seen, dark rain clouds all over the sky.

So, where did i go last nite till 3am? FOR THE GAME OF THE YEAR OF COURSE!!! MANCHASTER UNITED vs LIVERPOOL!!! GOD! all my effort of booking a place from 7pm-2am was worth it! Why all the trouble to Desa Sri Hartamas' SOULED OUT cafe, when i can watch at home on the sofa? cos lots of these football fanatics and this Football Crazy presenter (Sheikh Haikel) was there to boost up the mood, it's the game of the 2 teams that never will be friends! And there was this big satallite dish and 1 van each from TV3 and CELCOM parked outside, broadcasting us live on TV.

If u were watching the game, i think u would have seen us LIVE, with this very huge plum guy(Sheikh Haikel), did u? Well, that's us in the background hahahha! Not to forget, the main reason of going to hartamas was to get the goodie bag from ESPN. They were giving out goodie bags to the 1st 300 who were there. AND I GOT 1! hahhaha





Goodie bag.



Before the game started at 12 midnight, chelsea was playing charlton. And something weird happened. ManU and Liverpool fans got together and supported Charlton, not wanting Chelsea to win the game hahahaha! But the second right after the clock struck 12, u could see the rival look on our face - The Devils & The Reds!

1st half was kinda cool and calm, one or two attacks from both side, it was boring in fact, something that both team's fans were expecting more of it. Everyone sat in the chair quietly, had the eyes glued to the big screen, sipping some water slowlyyyyyyyyyy so that they dun finish it so soon (which then the waitress can't chase them away).

Then came 2nd half, fuhhhhhh the heat started to build up, once awhile ppl start jumping up from their chair when the ball gets near to the penalty box, but always with a 'aiyoooooooooo' and 'smack on the forehead' in the end. No goals!

Everyone was kinda dissapointed by the time it reached the 90th minute, only left with few minutes of injury time. Suddenly, a chance of free kick came, Giggs took the kick. Ferdinand jumped and gave a header, GOALLLLLLLLLLLLLLLLLLLLLLLLLLLLLLLLLLLLLLLLLLLLLLLLLLLLLLLLLLLLLL! *SCREAM LIKE MAD, JUMP UP FROM THE CHAIR, PPL HUGGING EACH OTHER, PUNCHING THE FIST INTO THE AIR LIKE A MAD COW, PUTTING ON SOME VERY VERY WEIRD FACE EXPRESSION....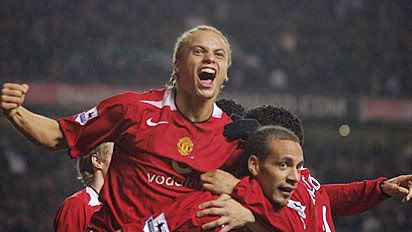 Rio Ferdinand is mobbed after grabbing the late winner over Liverpool



The screaming went on for at least a 30 seconds. Even during playback, we screamed again, but slightly softer haahahaha, cos no voice d. ManU 1-0 Liverpool! This is a very memorable day.

Before the game started, Liverpool fans were loud. During the game, Liverpool fans were loud. During half time break, Liverpool fans were loud. But after the game, Liverpool fans went quiet. hahahhaha! u could see the dissapointment in their face, seriously! But yea, i understand that feeling of loosing. Well, it was far more humiliating when ManU lost to ManC the week before (forget bout it, sigh).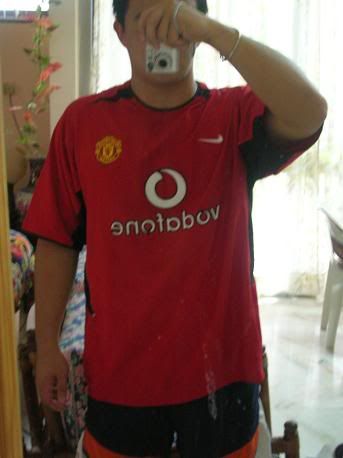 Discounted jersey which only cost 10 pounds (RM70).

This morning, when i was out to service the car, i wore on my ManU jersey. Proud! Even at the workshop, the mechanic, who is also a ManU fan, was happy that i wore the red jersey, he was chatting away bout the game with me through out the service. I wanted to stop talking to him, so that he doesn't forget to put back any bolts or nuts, but he can't stop! hahahhah! January 23rd (123, easy to remember), i will not forget this day!

Guys, especially Liverpool fans, dun get all heated up alright? No hard feelings! It's a game. Got lose, got win. Anyhow, Liverpool never walks alone, am i right? Cheers!