Boeing 777 - All new outlook
Take 5! Enough of books for now. Have been frying, steaming, scalding, grilling...... my brain for the past few hours. Exam's next week, but i'm not really nervous, wonder why. Is it a sign that i've finished knowing what i should know? Hopefully! hahhaha...

Heard of the new outlook for MAS' Boeing 777? No? nvm if u dun know about that, cos i'm sure u know bout MAS' 2nd Qtr net loss of RM368 million! MAS rocks! What a great way to welcome our all new MD/CEO - Mr Idris Jala ya? In contrary to that, 2 thumbs up to AirAsia for making a net profit of RM11.7m (increase of 13%), good work! As for Malaysia Airlines, get well soon...

Despite suffering from financial problems, the all new outlook for the B777 made us all proud. Malaysia Airlines became the first international carrier to land at Adelaide Airport's brand new terminal about 2 weeks back, with its splendid blue B777 stylised exterior boasting Heliconia leaves, marking its inaugural arrival at the terminal. It was a memorable day.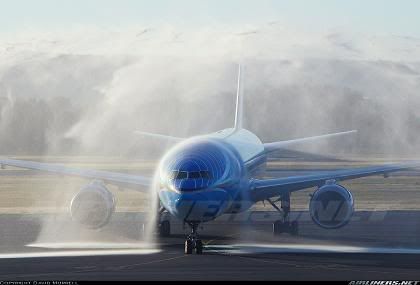 Upon reaching the gate, Adelaide Intl Airport blasted out a stream of water, while the blue B777 slowly appears out from the screen of water, marking the warm welcome and blessings from the Aussies. (everyone clapped) It was so touching... *sob sob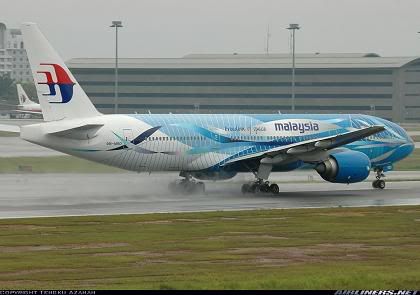 The aircraft made a graceful yet grand touchdown, flying the Malaysia flag and the all famous red-blue Wau. 9M-MRD is its registeration number, which also reads '9 Mike, Mike Romeo Delta' (right behind the back door). The 6 wheels each side on the main wheels guarantees its trademark as a B777. The whole package just makes it oh so fine and pretty.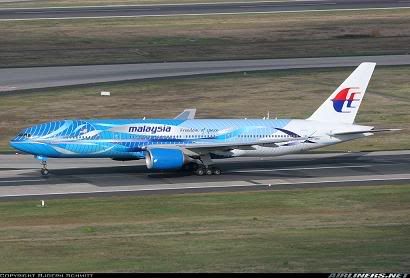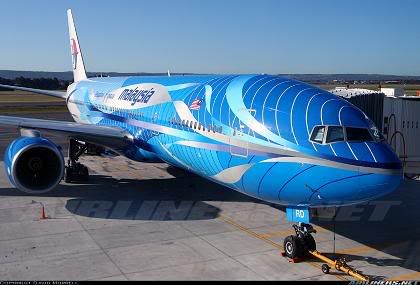 About the B777 aircraft: The newly refurbished B777 "Heliconia" is one of the two aircraft, to have been repainted, each with a different design specially created to introduce An Experience Redefined persona. The
heliconia leaves
design was incorporated to portray perfection, attention to detail and a sense of finesse. Its rich blue tones give the aircraft an elegant and luxurious appearance. A stylised rendition of ribbons is also included to add movement, liveliness and certain sensuality to the design. Ribbons (on gifts) symbolise new beginnings, new surprises and the delightful experience of unwrapping a gift.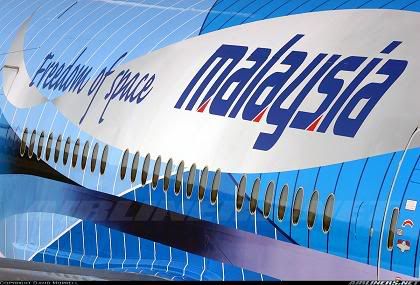 Shades of blue and white with stripes of lines circumferes the aircraft, leaving the word MALAYSIA untouched, and bearing a new experience of FREEDOM OF SPACE. And when people around the world see MALAYSIA, what comes to their mind? 1st: Pirated DVD/VCD 2nd: Ear squats if u r punished 3rd: land of potential bombers like Azahari. Sighhhh, our PM must be having a hard time cleaning up the dirt.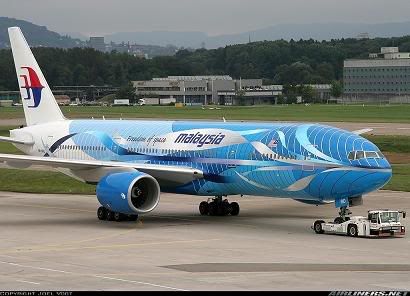 Good Morning control tower. A very beautiful day. 9 Mike, Mike Romeo Delta asking for clearance to taxi to runway for takeoff to KUL.
9 Mike, Mike Romeo Delta, u r cleared for taxi to runway 25R, hope to see u again!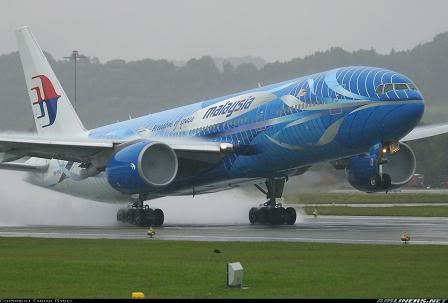 Full Speed take off. Look at the Rolls Royce-Trent 892 twin engine air intake, seems like a layer of cloud has formed right in front of the fan blades. As the aircraft screams off the wet runway, the high speed wheels stirs up moisture and blurs the visibility of everything behind it. Pay close attention to the leading edge of the wings, a thin layer of white smoke is seen, resulting from the wings chopping into the air, causing turbulence or air as air molecules seperates to go above and under the wings. Price of the pic? Priceless.
B777-200 Specs:
Type: Long range, wide body airliner
Powerplant: RR Trent 892 (MAS)
Performance: 905km/h (Mach 0.85)
Weight: Empty 139,025kg, Max Take Of Weight(MTOW) 229,520kg
Max fuel capacity: 47,380 US gallon
Dimension: Wing span 60.93m, or folded 47.32m, length 63.73m, height 18.76m. Wing area 427.8m2
Capacity: 2 Flight crews, 278 passengers (MAS)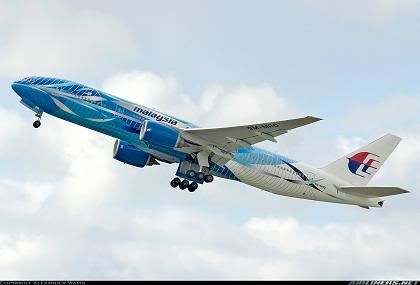 Easily,camouflage in the sky and clouds.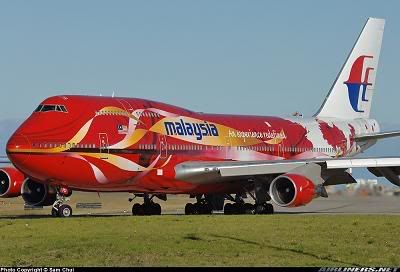 Obviously, easy terrorist target in the sky! haha...

Oh, of course, how could we forget the 7-months new B747 which showcases the hibiscus motif. Equally stunning. This was incorporated into the first design based on its significance as Malaysia's national flower. Its resplendent red tones add vibrancy while lending a touch of warmth which the country is renowned for. The free-flowing placement of the hibiscus (akin to its swaying in a breeze) also gives it a sense of flight and freedom. (Thus the motif: An Experience Redefined) The hibiscus design is consistent with the pattern used in the First Class cabin decor and elements like the seat fabric, napkins and blankets. But i have yet to get the chance to see it.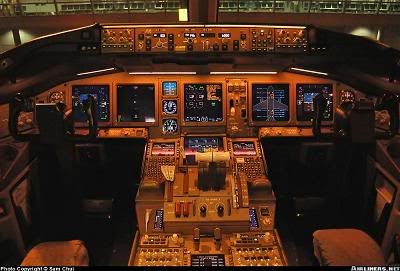 Now,this is what i call cool...

Personally, i think that Pilots get the best views in the world. Sunrise, Sunsets, over the snowing white Swiss Alps, sandy dry desert, fluffy clouds, u name it, they've seen it. Well, i guess i'm not as lucky as them? What i see is only black engine oil, clothe staining tyres, fuel that can burn me to death, not to forget the fuel fumes that causes impotency(check out 1 previous post). hahahaha... But it's ok. We cannot compare Pilots and Aircraft Engineers. Both have their professionalism, they have to work hand-in-hand. Without Aircraft Engineers, no flights are allowed. Without Pilots, neither are flights allowed.
p/s: I just called upon my parents to see this new outlook of MAS' B777 that i love so much. And u know what my mum said? "Aiyooo, blue color some more, like funeral. No wonder business so bad." (and she walked off straight)
Mum, mum........ i'm spechless. (trying to pull out the knife she stab into me, literally)
*I did not travel to Adelaide for these pics. They were downloaded from www.airliners.net. Just wanna share what's happening in the aviation world. I'm not so lucky to get free air tickets (till i start work haha)