Black Star Shining
"I'm bored, bring me out please?"
"I want to go to school too, i'm so bored."
"I'm boreddddddddddddddddd... how many 'd' did i type? 17?"

These are the words that always appear in my MSN name status. But, from this very day onwards, it would not appear anymore and I shall not complain that i'm bored anymore during my holidays. Why? Because, i think God heard me and thus gave me lots of things to do now, making feel so busy. What am i so busy about? It all started yesterday night...

...I was driving in my car, with a female friend (old school-mate). It was raining heavily, we were on our way to meet up another friend. It was on the PLUS Highway that i was driving on. A car was behind me on the outer fast lane, seeing him behind, i decided to overtake 1 more car on the middle lane, so that i can let the car behind me overtake me. During overtaking of the middle lane car, which was under a bridge, there was a big puddle of water, my wheels went over it, i held real tight on the steering wheel, knowing that the car will definitely ski abit. Nearly bang the divider on my right hand side, but manage to get the car back into control, SUDDENLY i was bang from behind! Sigh... accident.




Weird thing is, even though i was bang from behind, my engine shut down, and it couldn't be restarted at all, was considered dead (later, mechanic said the timing belt broke). So, there i was, on the outer fast lane, sitting in the car, at a cornering, where cars few hundred meters away wouldn't notice the accident. i was in great danger. And my words were true, a kelisa soon bang into the wira that bang me. Great, now 3 cars are involved. Sigh... accident

The Plus Unit Peronda ppl came, put up some orange cones and diverted fast oncoming cars to the middle and inner lane. It's really scary standing in between the divider. Then, they pulled all 3 cars to the emergency land. And me and my friend had to risk our life running over 3 huge lanes. Unforgettable experience.

Made a police report this morning, but have to meet up again with the sarjan and the 2 other drivers this saturday night to investigate. I just hope everything will be fine, and get everything settled a.s.a.p. The post-accident effect is torturous, hate that feeling.

After making the police report, me and Mr. C (the fren who is very kind to fetch me around) went for breakfast, it was my treat to him. Having so many things to talk about, we forgotten to put up the 50 cent parking ticket. So, we came back to the car to see a very colorful paper clip under the windscreen wiper. Looking at the time the ticket was issued, it was just 9 minutes ago, while we already had breakfast for the past 40 minutes. IT'S JUST SO NOT MY DAY. DAMN.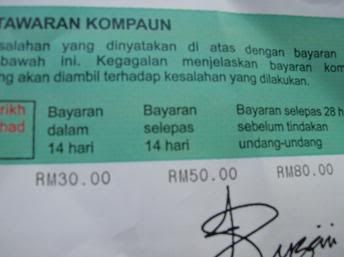 Since we were already in town, we decided to pay the fine. It is the 1st time in my life being such a good citizen, paying a fine 20 minutes after being fined. *shakes head. Anyway, Mr. C volunteered to pay the fine (thanx). It had to be settled a.s.a.p because the fine will increase after 14 days of delay. WHAT A SHIT DAY.

The Black Star is shining bright on me i guess. I'm unlucky. Before i forget, i would want to sincerely apologise to my friend who was with me. Sorry for giving u such trouble, shock, and trauma. I guess i won't be able to chauffeur u around, cos most prob your parents have banned me from doing so. SIGH.

Feel so lifeless now. Can i have some words of encouragement? A pat on the shoulder? A hug? Anything... I feel real shit now.