Pomelo Faces
It's end of the year again, every1's busy. We students will be studying for exams which is coming in 2-3weeks' time, parents will be thinking of which country to go for holidays, and those who just graduated, continue shaking legs while waiting to get a job.

Living in MIAT (my institute) is really boring. Being surrounded by palm oil trees is bad enough, to make things worst, the nearest supermarket (no no, minimarket is a better word) where u can lepak in is like 10km away. Therefore, no car = no life. Having a positive thinking to cheer ourselves up, we always imagine the palm oil trees as coconut trees by the beach and swaying as the breeze blows. Not bad huh? But still lack of girls in bikini, we're working on it.

On one of our 'nothing-to-do' nights, we did something to the pomelo. We revived it!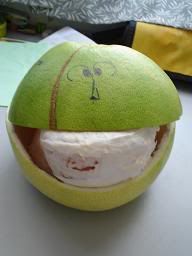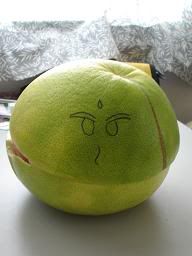 1.Smiley 2.nyek nyek nyek...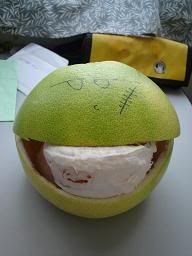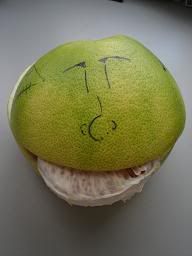 3. Argh, a scar on my face! 4.BLuekkkkk!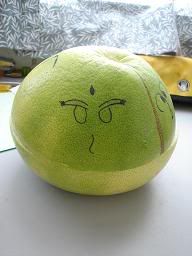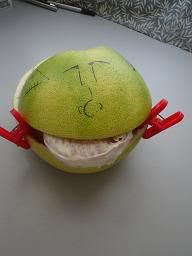 5.Cari gaduh? 6.Yeay, i have hands!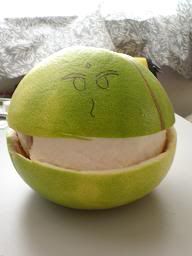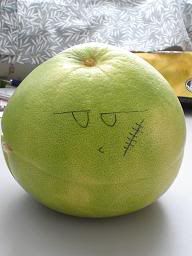 7.My teeth are the whitest 8.My gf scratched my face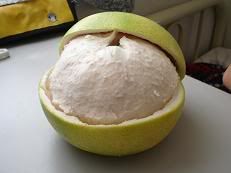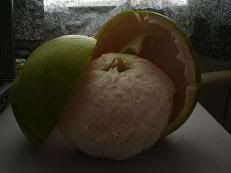 9.Hey, i'm half-naked! 10.Fully naked, sexy huh?



The Sifu who revived them (he likes being half-naked, that explains why...)

Never seen such beautiful way of peeling pomelo skin before? To tell u the truth, it's my 1st time seeing this, it looks really nice and neat. Normally i would just stab the knife into it, and pull the skin off like a barbarian, thus injuring the beautiful white skin. Sometimes if i have the patience, the i would slice every 2 inch interval, and make a crown out of it (i use to wear it when i was young haha)

Later on, the pomelo rebelled, tried to kill his Sifu with his pair of small red hands (refer pic 6). The Sifu was dissapointed and regretted reviving it. So, the sifu called upon his 'heng dai' and killed it without mercy. It's in my tummy already...