Airbus 380 in KLIA hangar
Wednesday, 16 November 2005. A memorable day for lots of us in the aviation industry here in Malaysia. The world largest aircraft, the Airbus 380 has finally arrive. Around 2020hrs, it touched down in KLIA. Unfortunately, all of us had exams till 9pm, and thus after finishing the paper, everyone jump into any cars available and headed to KLIA for the sight.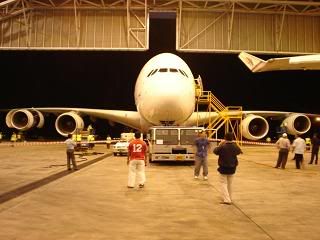 T
he magnificent 555 seater aircraft
They should name it AIRBUS FLOWERHORN instead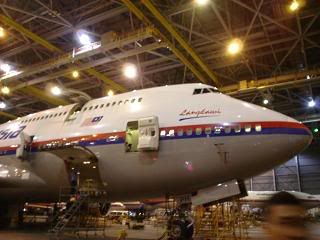 The rival that is going down - Boeing 747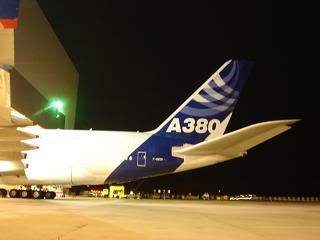 Looks small? It's 7 floors high!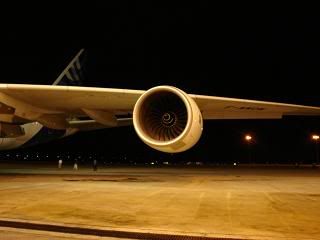 Port side, outboard engine.
Normally, an aircraft's engine cost about 30% of the selling price. So for this case, this A380 cost RM1bil. After doing calculation, 4 engines will which are mounted here cost RM300mil, and thus 1 engine here in this pic cost RM75mil. Say, how many Ferrari is that?


Engine cowling (cover) opened up for inspections and maintenances.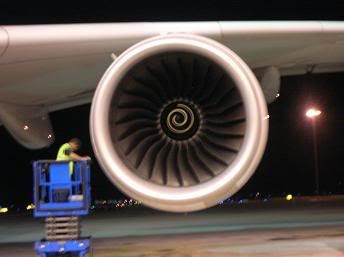 See how small the man is! the engine air intake is at least twice the length of a man.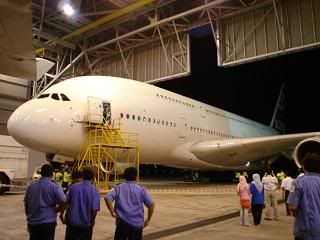 What's the fuss all about this plane? It's double decker.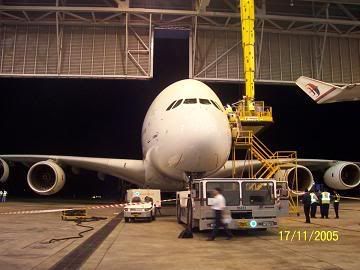 See that yellow thing on top? That's a suspended platform for maintenance high up there, where ground platforms aren't high enough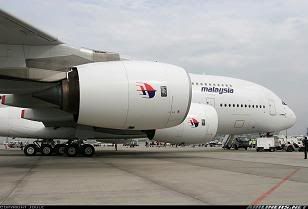 17 Nov. Accepting VIP visits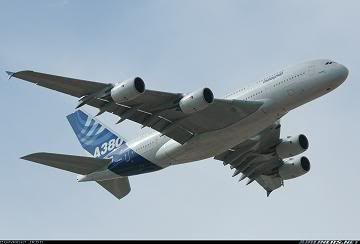 18 Nov. Bye Bye A380. Took off at 10am and turned back, flying pass the airport at a low altitude of 5000ft(1.5km) before heading for Dubai (Please check airbus.com for the plane's whereabout)

After all these happy moments, the thought of my company being on front page of papers saddens me, sigh! God knows what will happen to us - Trainees. Will they stop our studies and cancel out contract? will they cut my allowance from RM450 to Rm45? I dunno. As for the 6 A380 that MAS reported to buy, rumours are running around that they might cancel half the orders to 3, or maybe to neil? b'cos 'boh lui liao'

And the new sales team that set the new pricing for 1st class seat, are u nuts?! one way 1st class ticket from Kuala Lumpur - Stockholm - New York cost RM27,000? (the previous price was RM10,000) That's a 170% increase! So how bout a return ticket? Sell off a Proton Gen.2? I understand that MAS is suffering losses from cheap airticket and the ever increasing jetfuel, but dun u think RM27k is kinda ridiculous? No doubt that the pruchasing price of 'a' full spec 1st class seat by the airlines might cost bout RM100,000 each (whereby MAS is chnaging all their 1st and business class seats in the 17 B747 and 17 B777 available), but i do think that there are other better marketing skills than raising 170%.

On TV, i see MAS sponsoring Malaysian Idol, being the official airlines of STOMP, this and that performance, but what do they get by doing so? fame? nah, i think more on money wastage. And they can't even take care of their internal problems, like improving the training department condition, thus producing more productive engineers and mechanics, which then helps strengthens the company. However, the fact is that they rather be beautiful on the outlook, and have bleeding internal organs on the inside, which slowly is going to die painfully.

I guess, 1 day, the only ppl boarding MAS' planes will be their own staff.
p/s: feel free to condemn MAS, cos i'm on your side! anything from online/phone ticketing, checking in, boarding, in flight service....to toilet bowls.