Kampung Kuantan Fireflies
Hello lo! I'm back from hibernating for the past 3 months, thousands of apologies for that. Why have i been gone? 1 stupid & unforgivable excuse, I can't find time hahaha... (i'm really busy with studies, the freaking aeroplane is so huge and complicated, argh!)
My bday just passed 1.5 weeks ago, quickly wish me happy belated birthday, quick quick! else it will be obsolete after 2 weeks.(it's on

19th sept

! i dunwan presents anymore, i want

$$$

) Hey, I'm listening to 'Wake Me up When September Ends' now, and i just realised that it's 30th sept with 40 minutes to go. Should i wake the Greenday singers up at the strike of 12? U have their hp number?
Since my bday fell on the 1st day of my Final Exam (mid-sept is the famous time for holidays and exams, why why why?!), my coursemates and i had to celebrate my bday a lil later. So, we decided to do something stupid. And we did something stupid. We drove 125km(250km to and fro) up north from Sepang to Kuala Selangor, spending 2 hours on each journey, RM14.60 in total for toll and RM30 on fuel. Purpose of trip? EAT CHEAP SEAFOOD!
Reached Kuala Selangor fishing village at 7pm and our tummies were making sounds that could cover my car's radio speakers. ish... no patience at all! Marathoned out of the car, 100metre sprint from the car to the restaurant, and played musical chair at the table (we were trying to grab the best sit nearest to the river bank ma hehe :p)
Ordered 6 dishes. (Please do direct translation in mandarin ya, i dunno what are the names of the dishes in english.)
1. Meat crab - milk oil tyle
2. Ghost fish - bbq style (stingray!)
3. Sotong - fried with flour style
4. O jian - selangor style (they made it like a pizza and cut into 8 pieces)
5. a type of bamboo-like clams, pop out straight up form mud, what's it called? - spicy chilli style
6. Kailan vegetable.
The bill came up to RM87.40! 4 of us shared. Only RM22/person. UNBELIEVABLE CHEAP for seafood, dun u think so?! As the proverb says: A full stomach is a happy stomach. Happily and slowly we walked back to the car and started yawning as the a/c was turned on. Life is wonderful.
Next destination, Fireflies watching! yeay! 5 years ago i camped in Taman Alam, some 10km away form this Kampung Kuantan Firefly sanctuary.

It was beautiful

. There's no other words to explain, but just beautiful. Whole stretch of mangrove swamp along the stream was twinkling, every single tree was twinkling, every firefly was

burning their arse

! haha! But 5 years later of today, why so few left? where has this electricity generating insect migrate to? Now, i can only rate it as 'quite beautiful laaaa'.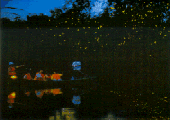 Life jackets are provided. Imagine those lil lights twinkling, beautiful?
It is one of two places in the world, the other being along the Amazon River in Brazil, where millions of fireflies can be seen to flash their arses. The location along the Kampung Kuantan is special because it is easily accessible whereas the one along the Amazon is not.
Bought the RM10 adult tics and walked to the jetty where the boatman awaits us. With such pitch-black darkness, i would have done a walk-in dive if it wasn't for the boat operators giving directions. Safely sitted on the sampan, facing forward, i was agitated when i heard a motor running at the back of the sampan. isn't it suppose to be quiet and they should use oars to row the boat instead? No wonder the fireflies are dying off! Though it was a motor that only generated 10km/h speed, but the sound is just too much. Can't they do some modification to the motor, put some silencer or just row the boat?
Anyway, as we fought up river, I looked to the distance and saw a flicker of light. As we got closer, the lights grew brighter. It looks as if someone strung a handful of tiny white Christmas

tree

lights on the trees along the river. Flickering on and off.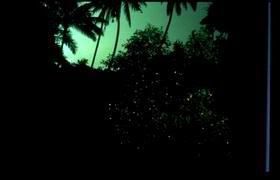 When it is so dark, the fireflies take the shine.



Some parts of the river was dark, without a trace of any fireflies, and a few trees were infested by millions of them. And after reading from an internet souce, it says that "

At low tide, the fireflies are more spread out and during high tide, they gather. This is because if they fall into the river, the flies will die

.

" i guess it was high tide when i visited.
According to researches, the lights, which the male fireflies produce, are brighter than those of the female species. When the males find a mate, they begin to blink in unison whis is called synchronicity. The males flash within 1/30th of a second of each other whilst the females do not flash as frequently nor as flamboyantly as the males.
The mangrove tree is a type of oak tree that grows abundantly on Sungai Selangor. These trees thrive in a humid climate and swampy surroundings. The fireflies survive by sucking out the nectar produced by these trees.
It will be wise if u wore

long trousers

, and a thin

sweater

for the girls, because the boat ride is quite chilly with the sea breeze blowing non stop. Long trousers is to prevent mosquito bites. Personally, i dun think u should bring any

mosquito repellent

, cos the smell might contribute to the lessening of fireflies in Kuala Selangor. So, let's protect this beautiful creature! For those lazy asses, get up and drive to kampung kuantan to watch the fireflies b4 they extinct in front of your eyes!



p/s: sorry for such small pics. i didn't bring camera, so i got it from the net.