Backpack to Terengganu
3 more hours till i leave home for my

journey to the east

. Not to find

kitab suci

or bible or

tong shu

, but to visit the the

beautiful state - Terengganu

. Bought my bus ticket from Kajang to Kuala Terengganu via KL, leaving at 9:45pm, should be arriving at 6am. I know, it's a 8-9 hours journey, definitely

torturous

, but what to do? budget trip.

My classmate, Ram (a chindian) will be arriving in a while from Taiping, then joining me to KT. Poor guy, 4 hours from Taiping-KL, and another 8 hours to KT, do the math! his ass is gonna bloom like a

beautiful flower

! hahahha! Poor him. He has no choice u see, Taiping is like opposite of KT, but on the west coast. However, the only 2 ways of getting to KT is either through North at Grik, using east-west highway ; or through South at Karak, using KL-Kuantan highway. I'm glad that he chose the south, can teman me talk nonsense.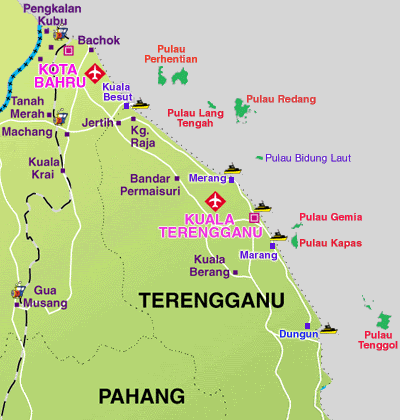 East Coast

My main destination is Pulau Kapas aka cotton island, which is off Marang's shore. Gonna spend

3d

2n

there starting tomorrow morning, and most prob take friday night's bus and reach KL on saturday in the wee hours (

any1 can pick me up? i chia u dimsum

!) Notice that there's another town called

mErang

? that's the jetty if u wanna go to Pulau Redang; as for Pulau Kapas, go to

mArang

. (refer the pic above)

9 of us will be going, all coursemates. 7 malays, 1 chinese, 1 chindian. We'll be meeting up in KT at around 11am. So i have ample time to move around KT town, hopefully i dun get too bored and too tired carrying my bag.

my handphone will be brought along. If there's anything, do sms/call me. i'll definitely reply u, boasting to you how i'm enjoying, let u listen to me drinking the

coconut

water through the phone hahaha!

So, till then. Bye bye every1. come come, let me hug u 1 by 1, i wanna cry d, i'll miss u guys badly *sob sob.........hahhahahah! kidding la! TAKE CARE!