The Kingdom Deep Down
*Smack, i'm not talking about hell! I'm talking about the beautiful mermaid world deep down under the sea surface, where another community speaks with bubbles......

Compared to Malaysian water, the Andaman Sea has a broader variety of underwater life, i'd say. There were many '1st time seeing' for me, and it was a great experience viewing such splendid creatures. They had this charm that made me float weightlessly and enjoy every bit of their gracefulness. Beautiful.

So, i hope u would enjoy it as much as i did. Simulate the surrounding of u under the water, where it is quiet and pale, and the only sound u hear is your own breathing. But, with the companion of the fish, solitude will not surface.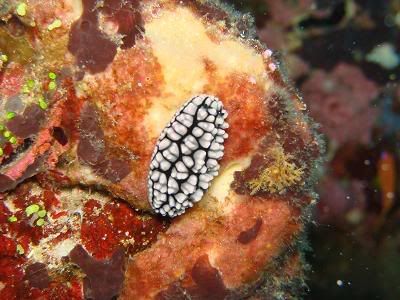 Nudibranch
- a type of sea slug, very colorful and attractive.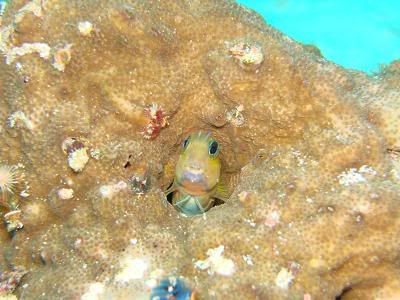 Goby
- very cute fella (fish), likes to hide in holes and pop its head out. "Say Hello!"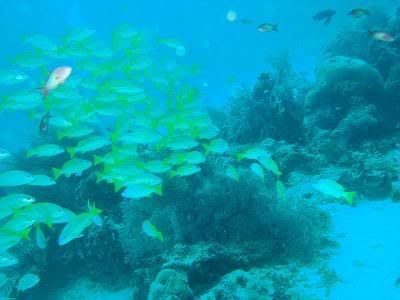 4 stripe snapper - as its name implies, 4 horizontal yellow stripes marks its body.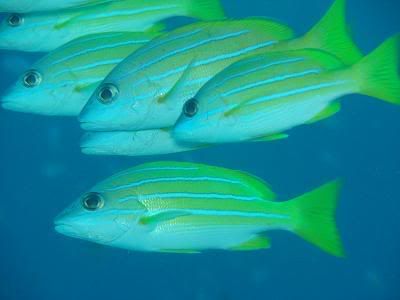 Macro pic - 1, 2, 3, 4...... 4 stripes!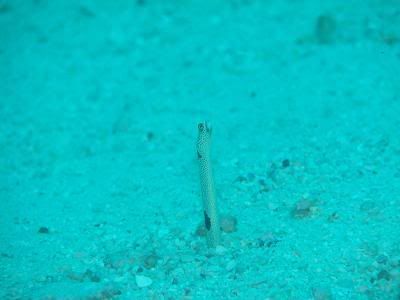 Garden Eel - very eerie feeling when i 1st saw it. There were like thousands of them jutting out from the seabed, and vanishing into the sand as u go near. Eeee... Oh, and u see the two black spots on its body? My Dive Master said that if u see 3 black spots, it's your lucky day. And if u see 4 black spots, u'll win Toto hahaha!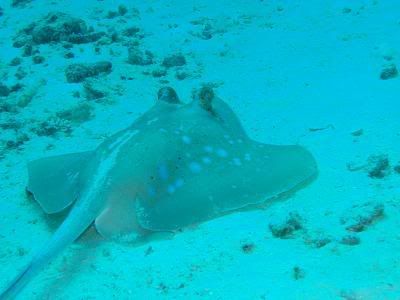 Blue-spot stingray

- lying on the sand. Wouldnt have noticed it if not for the blue spots. This aint the one that got Steve Irwin killed.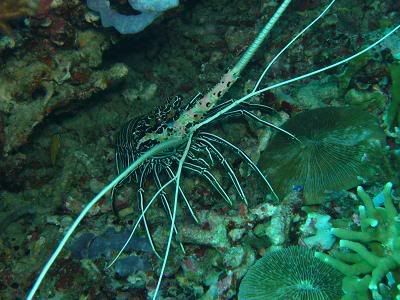 Lobster

- Catch! Barbecue! Eat! hahahha...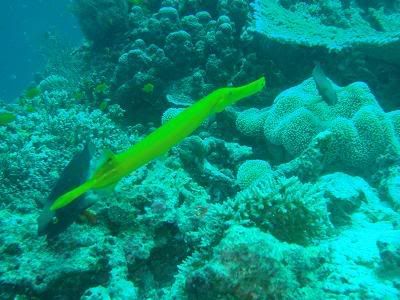 Trumpet Fish

- this is the yellow version (the other greyish). I guess because it's long and straight that it deserves its name? I like its golden yellow very much.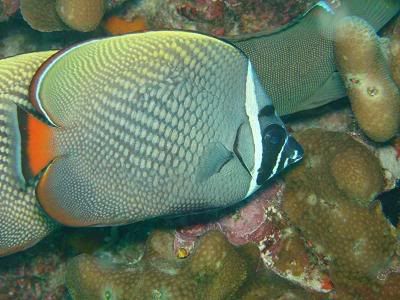 Angel Fish - Look carefully! it has eyebrows, how cute is that?! haha...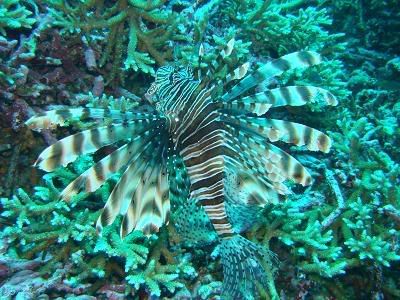 Indian Lionfish

- very beautiful fish, but u dont wanna aggitate it. Keep a distance and it will pose gracefully for your postcard pics.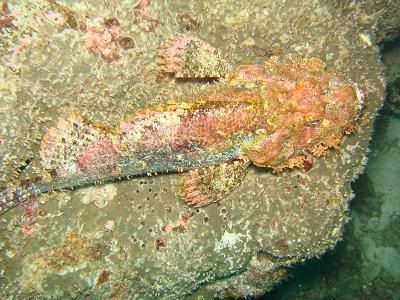 Rockfish/Scorpion Fish

- I dont see any fish, do you? Damn, i nearly touched it ya know? i was floating very near a rock while snapping pics of other fish, and when i turned it was right in front of me! It's famous for staying still for a super-long duration, in addition with its super-power camouflage outlook, it's definitely gonna get a big fat meal. Patience is a virtue.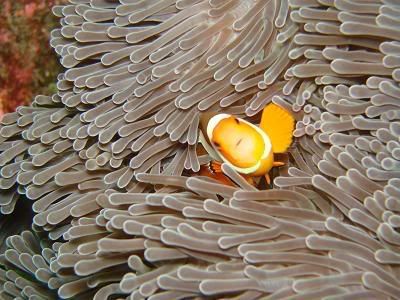 Clown Fish

- Nemo!!! u r back! alohaaaa....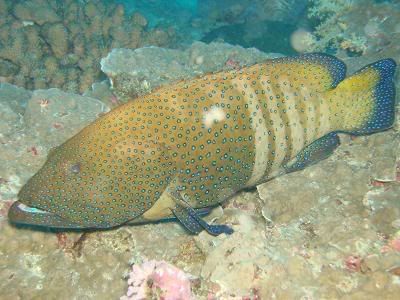 Peacock Grouper

- Oh very nice fish on the dish, believe me! it already rhymes 'fish on the dish', what else?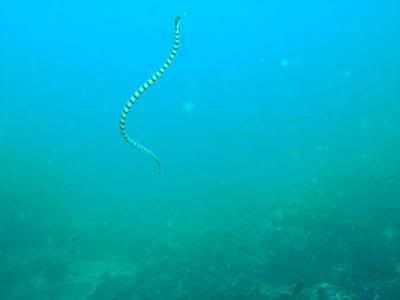 Sea snake

- no comment. Dont like it. Avoided it maximus. Btw, this is called poor visibility, can only see upto 4-5m. But for other pics, most of the time visibility was about 20-25m. Very clear.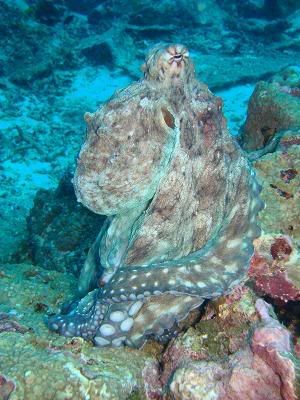 Octopus

- Wouldnt notice it if not for the other pro-diver's hawk eyes. It looks like a rock! Ugly looking, very very ugly.



Octopus - Night dive. A different species, but still has the same ugly face. Makes me think twice when i stand at the sashimi counter next time. Maybe not.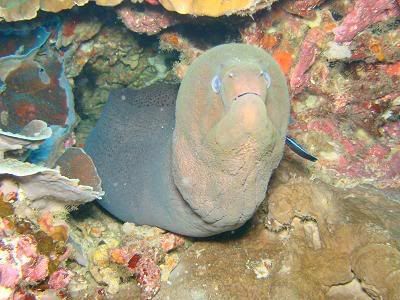 Moray Eel - the biggest eel ever. A common sight in Asian waters. It can grow up to 3-4m long, and it has a history of biting off thumbs if u wave your hands to it hahaha! looks like a hotdog i guess?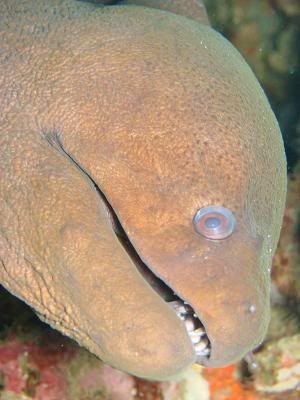 Moray Eel

- macro shot. Damn he's angry! back off man....back off.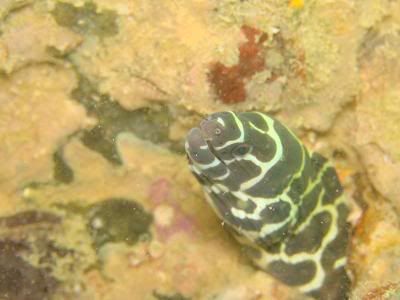 Honeycomb Moray

- very beautiful species. Just a baby still.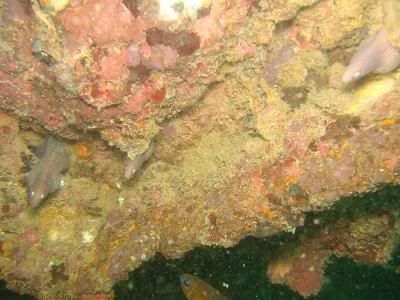 Common Moray

- babies. Cute when young, not when elder.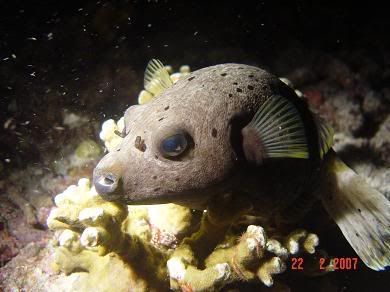 Puffer fish

- looks unique to me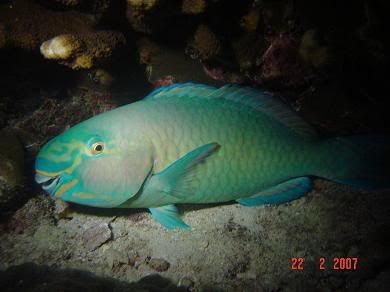 Parrot Fish

- oh easy one! even a kid can guess. It does have the looks of a parrot, but too bad for the voice part. It only produces big and small bubbles, can anyone decipher what it means and uncover their underwater talent?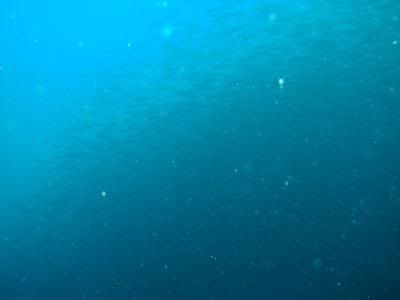 Dark clouds coming. As i was moving forward, suddenly it became darker, as if there was something really big blocking off the sunrays. I rolled 180 degrees, chest facing up, and saw this. A school of fish coming in. In Millions! Notice the two shades of color? just like dark clouds...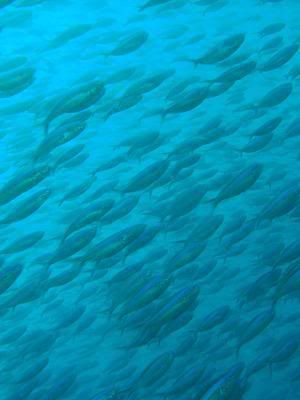 Right in the middle of the school of fish. Luckily the fish know how to avoid banging into divers. It was amazing, everywhere was filled with fish. Up Down Left Right Front Back. It went on and on for around 5 mins, some swimming left, some right..... then came the big predators. Suddenly the whole sea becomes empty! seriously empty! bout 3 seconds later, u'll see BIG tuna fish come chasing after the small fish. Was a real memorable scene.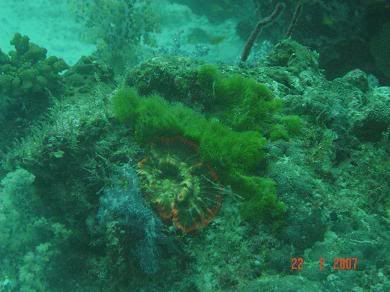 Check that out! They have a mini golf course underwater man! dun play play, nemo plays 18 holes.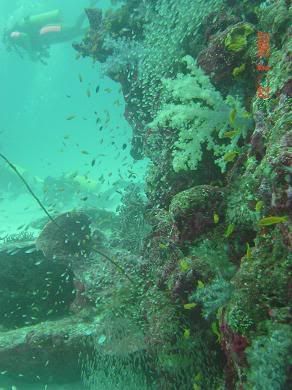 My personal favourite. Was just moving around and spotted this angle, got the camera and snapped, turned out as i wanted it to be.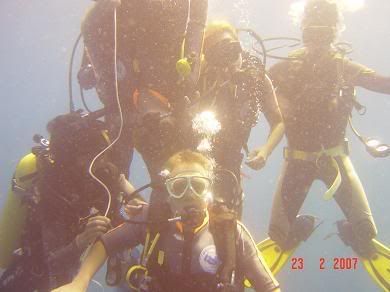 Group photo underwater while doing

safety-stop

. Safety stop is a 3 mins stop at 5m below water surface to let our body pressure equalize. Not doing so will cause the excessive nitrogen that we breathe in to go into our veins and joints as bubbles, causing serious pain.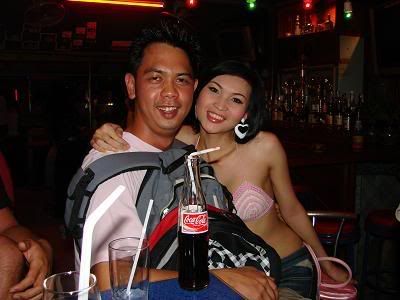 oh my ladyman.... doesnt 'she' look pretty? mmm mmm..... oh didnt i tell u we brought the mermaid back up to land for a night? no worries, she can survive on land for 24 hours.

(we left her in the bath tub wahahah!)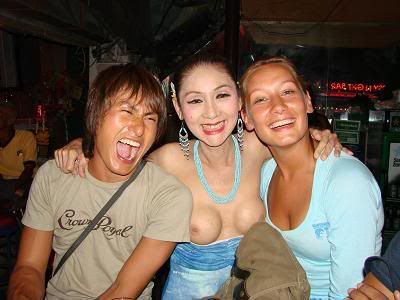 WTF!!!!!!!!!!!!!


hahhahahaha...... now that's what i call mermaid! look at those boobies man! perky pointy firm, whatever words u can think of. But it's freaking FAKE man!where got so round wan! and look at the face..... 'Dude, try again la....'
Look at (my Dive Master) Makoto-san's face! Freaking freaked out man! hahahhahhaha! he thought he saw a kawaii ghost! Hey hey, dont mix the white girl as a 'he' ok? She's genuine, never went through renovation. very pretty girl :)

"Kazia, we miss you!"
Now this is what u get to enjoy in Patong Beach, Phuket. Plenty, abundant, too much till u r immuned to it. To all bachelors out there, this is heaven. To girl friends out there, dun worry la, your boy friend will stay loyal.

Main buntut

only maaa hahahhahah!
Labels: SCUBA Diving