Le Tour De Kajang
Having changed a brand new set of front and back all-terrain tyres 2 weeks ago, I only got the chance to try out the comfy ride on my old-metal-horse (bicycle) yesterday.

Full with enthusiasm, and thinking that the RM76 tyres would contribute to a great ride, i woke up surprisingly early at

0730 on a Saturday

morning. Why? cos i wanted to go cycling before the sun becomes scorching hot!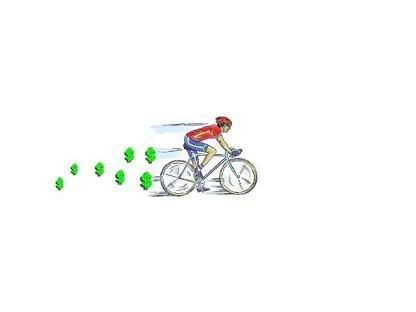 Dressed in sports attire, clipped the water tumbler onto the bike, i decided to bring along my IC and

RM10

. Just in case, u know *shrugs

The auto-gate closed as I rolled out of the car porch. Tuning into the intermediate gear for an easy and slow start, I planned the route to be taken. It's gonna be a long and tiring ride, i thought, but heck, it's better than

keeping those calories on the bed!

So, burn them!

1st turning out from my housing estate on to the main road, and i saw another cyclist some 50m ahead of me.

An Indon worker

riding on an old bike, u'll know it's old when u see it.

May the journey begin!

'Tuck! Tuck! Tuck!'

I changed my gears into highest gear and sped up, intending to overtake the cyclist in front and zoom pass him like a

superbike

overtaking a '90cc honda kap-zhai'.

Unfortunately, sadly, dissapointingly, angrily, frustratedly.... bout 5m before i could even reach him.....

'CHIBABOOOOOOMMMMMMMMMMMMMM.....TING TING TING TING TING!'

My wheels felt as though it wasnt round! it was

square!



I jammed on the brakes after 5 times of TING TING TING TING TING. Got on my feet and turn my back to look at my rear wheel.

It was a kcufing nail!

ARGH!!!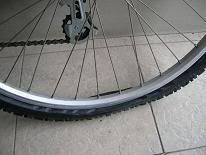 The nail that punctured my tyre.



My brain's CPU usage was at 100%, thinking alot of things like:

wth!

got so suey meh!

it's a brand new tyre!

and it's not cheap!

it's only 150m from home man!

what to do next?

push back to home?

or bicycle shop?

did i bring money to tampal/change tube?

luckily brought RM10.

but it's only 740am!

sial....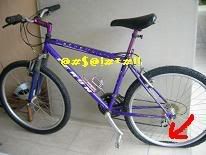 New tyres.... but FLAT!



I pulled out the nail, and i was really shocked! This is the 1st time in my life seeing such a big nail puncturing my tyre. On previous ocassions, it was either a tumb-tack or a small nail. But this! it was kcufing 2 inch long man!

I'm sure the 5 rounds of TINGS scratched the inner part of my rims and decreased the durability of my tyre. It's just my luck. Sigh...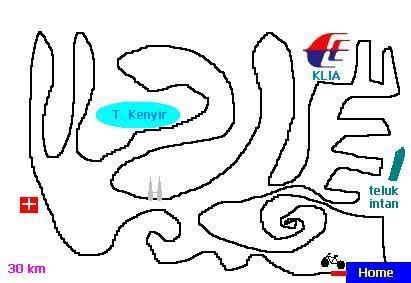 My Beautiful Map



Look, just look at my beautiful map, the route i planned to cycle through. It passes

Kajang Hospital

, Tasik Kenyir,

KLCC

,

KLIA

, and

Teluk Intan

before heading home. Cool huh? But the red line was the only distance i covered.

What to do, Itik menyudu.



A friend of mine suggested: I think u should go temple and bai-bai (pray), last week aircraft emergency landing problem, now bicycle puncture, quite suey lo.

hahaha! should i be supersticiuos? Let's just hope for better days to come.



p/s:

Was just wondering. Did the Indon worker knew i was gonna overtake him, and then he threw the nail on to the road? hahahah!
i'm so bad!