Counter-terrorist win
I've been rejecting friends' invitation for yamcha session nowadays, trying my very best to spend more time on books, as i have a really big exam this december, which determines whether i can be an aircraft engineer or not. Better start early than late?

Nevertheless 'all work and no play makes me a dull person' ei? And we all know that spending money can bring some joy huh? hahaha... girls will cheer up easily after an exhausting shopping day-out; guys will feel smarter & updated after a trip to PC-fair.

But how about me? what can the only RM50 note in a poor apprentice's wallet do for him? i found the best stress relief with RM50 today. A day i had so much fun, a day i wish to have again, a day i will not forget.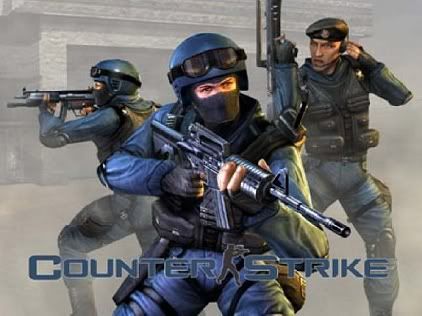 Counter Strike

I brought the multi-player game that all guys know about into real life - COUNTER STRIKE - where the last man standing is the champion. It was a total duplicate of the computer game, using real bullets, using real guns, minus off injured and dead civilians ok?

It looks as scary as it sounds. Real guns, real bullets, no kidding. But if safety precautions were followed strictly, it would be a safe and enjoyable thrill. See, even i'm still alive hahaha!

I got to know about this shooting club in MAS. Having the same curiousity that all of you have, i decided to give it a shot. RM50, abit expensive for a student, but to experience shooting a real gun from your own hands? Priceless.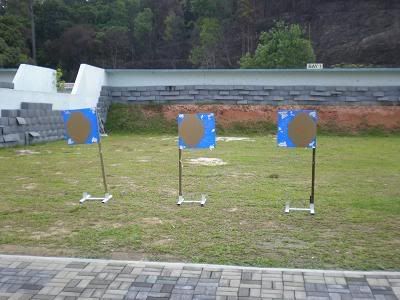 Shooting Range

After listening attentively for half an hour to the introduction to shooting and the safety precautions, we set up the shooting target. Then, came the interesting part of essambling 4 seperate black pieces into a single unit - a semi-auto pistol. Total coolness! fuh! (no pics on essambling as my sifu might think i'm not paying attention to him)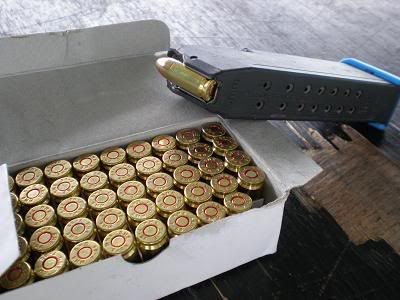 9mm bullets

RM50 allows u 50 shots of the 9mm bullets on a semi-auto pistol. The 9mm is the cheapest bullet of all and 9mm means the diameter of the bullet is 9mm. A

semi-auto

gun means u dont need to pull the little thing behind the gun everytime after each shot. Just press the trigger once after another, one by one will be shooting out. For extra info,

fully-auto

pistol is like machine gun, whereby u dun let go the trigger and it fires non stop (precision is low though).

Just like in the movies, when u finish up your bullets, u press a button, and the whole bullet cartridge falls off to the ground, then u pull up a new cartridge from the belt and slam it back up and start shooting, sounds familiar? It was something like that.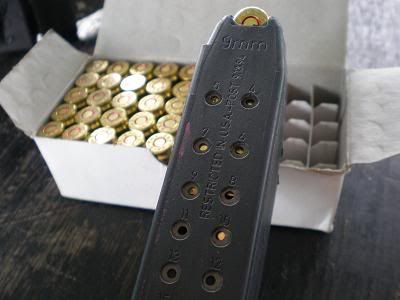 Magazine

This cartridge is called a magazine. I'm not sure if i got the spelling right, but it sounded like that when my sifu explained about the pistol anatomy. U can see the quantity indicator through the reflective gold color bullets. I have 10 bullets in this magazine.

Since it was our 1st time shooting, we tried out the close range stationary shooting. It was only 5m away. No wonder i felt like a champion cos my shots were mostly in the bull's eye. hahahah! Good way to attract me to continue this sport.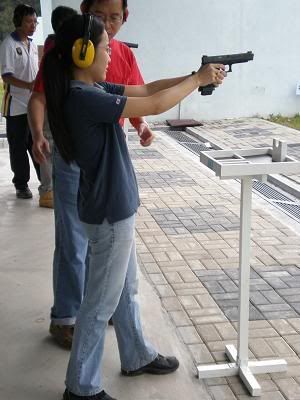 Yi Szean - the tomb raider



This is not solely a guys' game, even girls can have fun! Just look at my batchmate, she's having great fun. Paying full concentration on the target, holding her breath as she gradually pulls the trigger.

PANGGGGGGGGGGGG!

But nothing went through the board cos she missed it! hahahaha... but she improved tremendously later on, getting on target. Dun play play...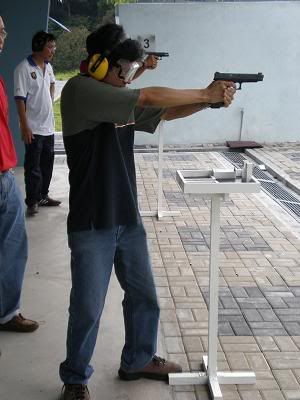 Ram - the macho

Then came Ram, my batchmate and also my housemate. Small size dude, but damn macho with the gun. Dah lah chinese-indian, stealing all my girls with his looks and brains, now wanna be even more macho. Sigh.... should have just shot him. End of story.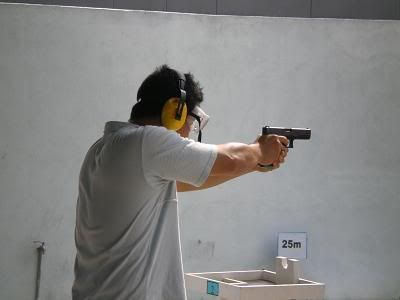 Put down your gun, hands in the air! NOW NOW NOW!

Enough of them, time for

the main actor who never die

s

. PANG PANG PANG PANG... *blows off the smoking tube of the pistol. Macho or not? quick, put all 10 fingers in your mouth and start screaming as if i'm the korean singer Rain. Ok, not funny.

By the way, i use to have the thought of joining the royal airforce after SPM. I like commando trainings and shooting stuff, but somehow it didnt come true cos my parents want me to live longer. Thank God i didnt join, too many planes of the RMAF have crash.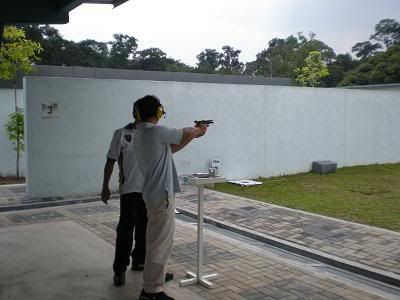 Anonymous Sifu guiding me

Here u can see my sifu giving me some guidance on the preperation to shoot. His name is anonymous, as he trains our very own Malaysian SWAT team. It was my privilege and pleasure to be taught by him. He gives alot of compliments and encouraging words, which makes u wanna improve and show him what u got. It is just the starting of a new journey, i do hope to learn more from him.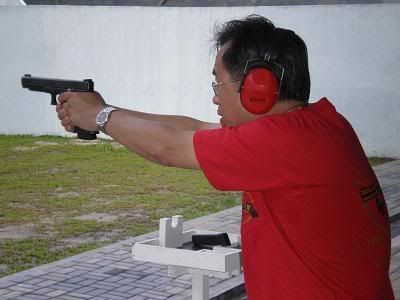 My Mentor

This is my sifu at work in MAS, he is a LAE, he was the one who exposed us to shooting. He has taken part in competitions, whereby u run around shooting different targets, and u gotta kneel and bend and lie down to shoot. Fast and accurate. Some competitions are in houses, which allows u to go room to room, climb up the staircase, i'm sure u get what i mean? just like the SWATs.

It was a great experience. At the mean time, i'm considering taking it up as a sport, but then money factor is another problem. Perhaps i should take it for leisure as a monthly thing for now, and only take it seriously after i grad.



Hope u were as thrilled as i was reading this hehe...
Labels: Adventure