Subang Airport
It's been 2 weeks since i started the life i've been dreaming of. The sight of jumbo-jets and the sound of roaring RollsRoyce engines that could be heard clearly through 3 doors is the dream i'm talking about.

Whoever says that F1 engines are loud and powerful is correct. But wait till u have the chance to hear for yourself aircraft turbine engines on ground run/test run, it will bring your heart beat to a whopping 150 bps.

Unless you want holes on your ear drum, use your first finger to cover up your ears! After covering up with fingers, then it will sound like a F1 engine. Even standing on a metal platform 300m away from the test cell makes no difference, it vibrates like a 2.0 magniture earthquake.

hahah alright, enough of my excitement on the engines. This is the place that i'm gonna finish my 2 more years course, Subang Airport.



T3 = Terminal 3
1 2 3 4 = Hangar
Yellow dot = Ground Run Cell

3 07 47 N
101 33 24 E

Currently still undergoing induction week and industrial safety, whereby the instructors explains eevrything about MAS from A-Z, and also all the safety measures to be taken in case of an emergency. (and that includes jumping off the aircraft on the slide! fun!)

No more waking up at 11am. Now, it's called healthy lifestyle. It's become a routine to start the day at 7am and end at 12midnight. Classes are conducted from 830am-430pm mon-fri. But when i'm in the hangar working, it's slightly different. 745am-445pm.





Formal Attire



Everyday attire is formal. Short/Long sleeve shirt + tie + leather shoes. It shows professionalism i guess? One batch mate of mine (girl), said "i've found a new hobby for myself since stepping foot here. It's called LOOKING AT TIES"

hahaha! well she told me that because i was the winner of that very day. Flattered! :P





Classroom



This is my classroom. We change room everytime the subject changes. For your info, even though i'm considered as working, i still have a balance of classes/course to attend and on-job-training in the hangar. It's part of the course. But yea, practical is more important and courses are just knowledge that u must have before going to the floor and get our hands dirty.

The haze is here again, and Subang is badly afffected. Thank goodness i'm in a/c classroom 8 hours a day. For those engineers working under the shelter of the aircraft, i do hope MAS supply them with face mask soon.



Gloomy day

Do u remember the hibiscus theme paintjob on one of the Boeing 747? The pic is on the RHS of this page, below ABOUT ME. Well, it's due for maintenance now, and it's parked in the hangar. So aircraft enthusiast all around the world would be missing it for the mean time, and it's my turn to look at it everyday!!! yeay!!


Preparing docking bay in Hangar 2
Towing into docking bay


Scaffolding, ladders, platforms, lighting, ventilation: all prepared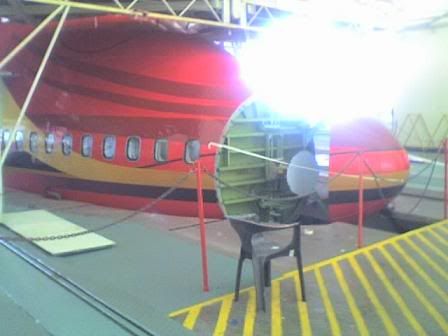 Radome

This is the front part of the aircraft. It's called the radome, whereby it only transmit data in forward direction up in the sky. It's as simple as the picture shows, just a flat plate with electronic stuff.

It sends out radio signals to detect rain/storm, lightning, clouds, oncoming aircrafts, and

flying pigs

? hahaha.... nah, just joking for the last one.

This radome may look simple, but if u were to stand in front of it, and activate it. Believe me, u'll be

MANDUL

on the spot. Since it's such a dangerous thing, the manufacturer has make it impossible to activate the radar while on ground. So, no worries! just scaring u guys :P!





Inside hangar 2



From this pic, the small 737 in the background is in the ground run cell, having its engine tested to maximum rpm. As i said, dun forget to close your ears. And inside the hangar, u see 2 hanging platforms from the ceiling, that's for servicing the tail section.

Last pic of the day, something u dun get to see often, and it doesnt interest anybody cos it's ugly. But no choice for me, this is wat i see most of the time. We have to strip the plane and do heavy maintenance for the sake of 1 word -

SAFETY

.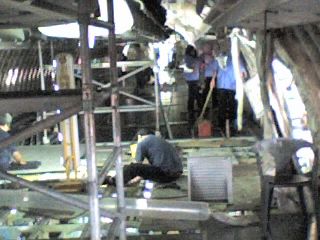 Airbus 330 cabin: seats removed, interior walls removed, carpet removed, floor board removed, cockpit dismantled