Bali - Island of pApAyAAAAAAA
i saw bobbies! as in live ones! pure, uncensored! haha.... that's what i told all my friends when i came back from Bali, the island of paradise. I went with my brother, just the 2 of us, took a free & easy package, cost RM560/person, including airport taxes, airticket, accomodation, and buffet breakfast, 4D3N. (btw, i got this package during MATA fair, so expect to pay an extra RM200 for usual price)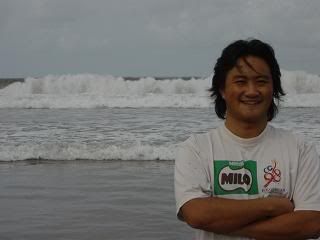 My brother - Iu Shen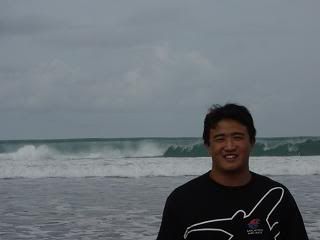 and ME!

Many ppl said i was so brave to go Bali, cos the Tsunami just attacked 7days b4 the day i went. Hey, dun worry dudes... Bali is far far away down south, just 1 hour flight from Australian land, and protected by java, so it's safe. Life still goes on like normal, just like back here in KL. In fact, during my 4days trip, heard no1 talk bout tsunami. But i was abit worried that the BALI BOMBING might happen again, anytime, anywhere. Anyway... Thank God. I'm back in 1 piece, not plural, but singular. haha! :p

Currency exchange is 10,000 rupiah - RM4.40(let's use RM4 for easier calculation). Largest paper note is 100,000 rp, followed by 50,000 20,000 10,000 5,000 and 1,000. So means the largest note is our Rm40 la. Conversation on prices there freaked me out on the 1st day of arrival. ie: "berapa ni?" "tiga puluh ribu..." whatttttt?????????? 30 thousand? u can buy a kancil over here! but that's in rp la... haha! so it's just a matter of getting use to it... ribu here ribu there. i change RM500 for rp, guess how much i got? 1 million rp!!!! never in my life i felt so rich... u hold the paper also syok, so many zeroesssssssssss. wahahhah...... Time zone over there is same with malaysia, but the sky turns dark earlier in the evening, around 6:30pm? weather, same - hot and humid.

religion over there majority is hindu and buddhist( the only place in indonesia which is not muslim). And every morning there's this tradition of offering flowers in a small 'anyaman' basket with a jostick laid on it to the God. It is done by every single family, every single day... and thus whole BALI smells like flower! serious!! the whole town smells soooo nice... makes u feel comfortable. really miss the smell.... mmmm flowers.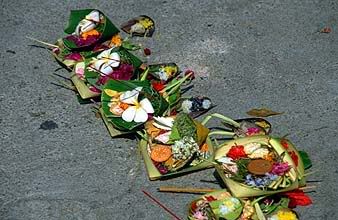 Oblations for the God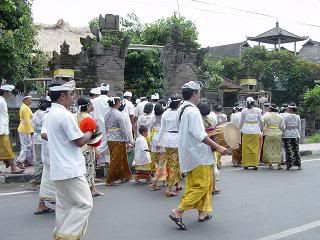 A Hindu procession

See the pic below? that's me with the surfboard. rented it for 20,000(rm8) for whole day, cheap huh? waves were really big, never in my life saw such waves... now only know Port Dickson's wave ciplak la... baby also won't drown. How should i describe Bali's wave.. erm... very strong current, very scary. once u fall from the surfboard, u'll go underwater for like 5seconds, and then the current underneath will curl and bring u up again like a wave and plunge down again.. and that contributes an additional 10seconds, comes to 15seconds all in. So make sure u take a real deep breath b4 falling off.And do pray there's no stones on the seabed. You won't be able to control your movement at all, u just hav2 follow what the current does to u. Anyhow, dun worry so much though it sounds scary, it's really fun! If u manage to catch the wave, it would just push u all the way til the shore. Very fast speed, very thrilling!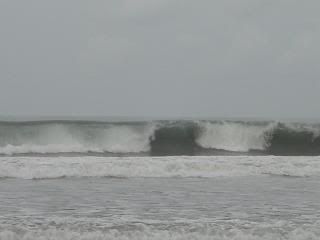 Big waves, 3-4 metres high

the shore was covered with mist around 100 metres out, because the waves hit so strongly, brings up lots of water into the air. During low tide, u can see Golden Retrivers and other stray dogs running aroud, playing happily, chasing each other. They are not afraid of the water, but even went for a swim! not like my taman's dog, only lie under the car and pee on my tyres.

There's a rule on the beach(well self declared la), only bikinis allowed. 100% without exception. ohhh gorgeous! drop dead model figures walking everywhere on the beach, some sun bathing, some playing beach volleball, some surfing... and there's where i saw papayas! it was like a papaya farm alright? too bad i cannot pluck it, cos i wil be prosecuted on the spot.

wow, have been talking so much bout the beach. There are many places too, lots of greenery, lots of padi.Overall, Bali is worth a visit. I wouldn't want to tell u too much, but i advice to go. nice place, affordable.

Reason for me to write this post mainly is to share my experience with you bout papayas wan...hahaha! and before i finish this, i wanna tell u a weird thing in Bali. They actually plant LALANG!!!! as much as padi... just like how padi is planted, square blocks on pieces of land. i really mean LALANG, the LALANG we find at our house/deserted land. they actually plant it for a living over there... i wanted to tell them "hey, we have this back there for free, it's abundant" ahhahha! wel they plant it and harvest for making atap roof, they say it cools down the house, which i think it's true. Keep it up BALI! LALANG rulesss......